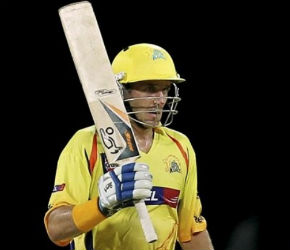 Kolkata Knight Riders and Chennai Super Kings are ready to battle it out in their first face off of this season. With CSK holding an upper hand with some many match winners, including captain MS Dhoni, Suresh Raina, Michael Hussey and Ravindra Jadeja, to name a few. KKR look a bit scratchy in their batting department as Gautam Gambhir and Eoin Morgan are the only batsmen who have batted well with consistency. But with Jacques Kallis and Sunil Narine in the team they would be looking to turn the tables in their favour.
Here we bring to you the players to watch out for from the match between Kolkata Knight Riders and Chennai Super Kings.
Chennai Super Kings (CSK)
Mike Hussey: Hussey has played brilliantly till now and has bagged two man-of-the-match awards. His effort of 65 runs in the last match helped CSK post a total of 169 on the board. He needs to keep the momentum going if CSK want to enter the last-four stage of IPL 6.
MS Dhoni: Dhoni smacked a brilliant 44 off 23 balls in the last match and would be looking to continue that aggressive intent in this match too. His ability to raise the final score by 20 odd runs makes him a great asset in the final overs. He will be a trump card especially if they chase in this match.
Mohit Sharma: Sharma was brilliant in his last outing as he picked up three wickets for just 10 runs in his four overs. He completely destroyed the top-order of Delhi Daredevils with his wicket to wicket line. CSK needed this kind of bowler who could bowl a good line and length bowl without much of variations in the first few overs as they have Albie Morkel and Dwayne Bravo who have ample amount of variations in their bowling.
R Ashwin: He picked up two wickets for just 18 runs but both the wickets were of the lower order batsmen. He needs to be much more aggressive to get those breakthroughs because batsmen are avoiding taking a risk against him and rather looking to see-off his overs.
Suresh Raina: Raina is looking bit off-colour this season. He was in good form before IPL but all of a sudden he has missed the trick. He scored good 30 runs in last match but he needs to play long innings because this is his strength.

Kolkata Knight Riders (KKR)

Gautam Gambhir: Gambhir has been very consistent with the bat this season and with three half-centuries under his belt; he would be looking to make it even bigger. His captaincy is looking bit rusty this season. He should bring back Brett Lee as he can make a lot of difference with his experience.
Eoin Morgan: He has played couple of good knocks and ensured that he can hold on the innings with just some decent support from the other end. His ability to free his arms immediately after coming to the crease makes him a very dangerous batsman. Last time he got out after scoring 47 runs which cost his team that match.
Jacques Kallis: Kallis is looking good in both the departments for KKR. In last match against Kings XI-Punjab, he picked up three wickets for just 24 runs. His batting form is also a boost for KKR as he can play those match-winning knocks by playing the role of sheath-anchor.
Rajat Bhatia: Bhatia has been bowling decently in this season but he needs to chip in with the bat too. KKR's middle order looks a bit rusty and he should be given a chance to bat up the order rather than making him wait for too long. He scored 16 runs off eight balls under some serious pressure.
Sunil Narine: He is the only bowler who has been amongst the wickets apart from Kallis. He got his first hat-trick of IPL against Kings XI Punjab in last match but his one over in which Manpreet Gony smashed him for 23 runs completely changed the complexion of the game.
By Amit Chopra
Indian Sports News Network