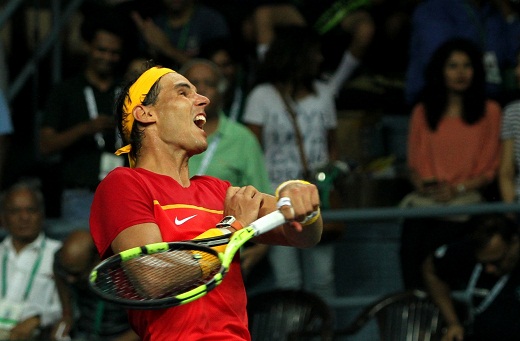 Melbourne: Spanish tennis star Rafael Nadal advanced to the quarter-finals of the Australian Open defeating Frenchman Gael Monfils 6-3, 6-3, 4-6, 6-4 here on Monday.
"Gael is a special player. He's able to play unbelievable shots. He's one of the more charismatic players on the tour. A pleasure to see him in the top of the rankings. Great for our sport," Nadal said after the match, which he won in two hours and 55 minutes, reports Efe.
Also Read: Roger Federer still got the touch
"Very happy being in the quarterfinals in a Grand Slam after a couple of years without being there, is very special for me and especially here in Australia, where it feels a little like home, crowd is always supporting me," Nadal added according to the tournament's official website.
Nadal, the World No.9, will now play the next round against Canadian Milos Raonic, who earlier on Monday eliminated the other Spaniard Roberto Bautista in a match that ended 7-6 (8-6), 3-6, 6-4, 6-1 in two hours and 52 minutes.
"(Against Raonic I have to) play very well, that's the only way, no?" Nadal said.
"He beat me a couple of weeks ago in Brisbane. It was a tough game. He's a top player with an amazing serve, so I need to be focused with my serve and wait for opportunities on my return," he added.
Nadal has won in six of eight previous matches against Raonic.
The 30-year-old Spaniard, who won the Australian Open in 2009, is delivering world-class performances this year in Melbourne, after he was eliminated in the first round in the previous edition.