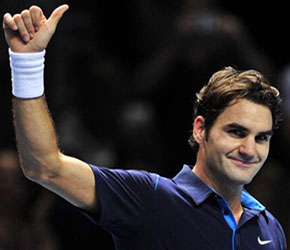 Tennis legend and Swiss sensation Roger Federer had one of the most disappointing and uneventful season last year where injuries hampered his participation in tournaments most of the year. This year with a new attitude and zeal, Roger has returned to the tennis court fit and hungry. He is already making his presence felt at the Australian Open after he beat Kei Nishikori and reached the quarterfinals with elegance.
Roger Federer competed in only seven tournaments last year before injuring his knee. Although he reached the semi -finals of the Australian Open and Wimbledon last year, he had the most dampening season of his career. He failed to win a single ATP competition and dropped out of the top 10 later in the season. He suffered a knee injury which led him to have an arthroscopic knee surgery and subsequently missed out the Roland Garros. New tennis stars like Milos Raonic, Kei Nishikori and his fellow country-mate Stan Wawrinka climbed the ladder of success and Roger Federer became a distant thought on the minds of tennis fans. Currently sitting at No 17 at the ATP World Rankings, Federer is focused on regaining his standing.
The 17-time Grand Slam winner, put his heart and soul on his return and rehabbed to get better and better each day. Many experts and tennis pundits thought it was the end of the road for the 35-year-old but judging by his recent performances he is determined to prove his doubters wrong and win his 18th Grand Slam title. He has already won the coveted Australian Grand Slam four times and is hopeful that he makes an addition this year. He beat Nishikori in a five-set match, 6-7 (4-7) 6-4 6-1 4-6 6-3 and continued his journey upwards.