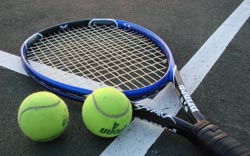 Kolkata: Vaidehi Chaudhuri blanked fourth seed Manchaya Sawangkaew from Thailand 6-0, 6-1 to enter the quarter-finals of the girls singles draw of the ongoing International Tennis Federation (ITF) juniors championships here on Wednesday.
Chaudhuri looked confident from the very beginning as she overpowered Sawangkaew and at the same time displayed a high level of patience during long rallies at the red clay courts of the Dakshin Kalikata Sansad here.
Also read: Rohan Bopanna, Sania Mirza enter second round in doubles of Australian Open
She whitewashed Sawangkaew by just conceding one game in the entire match.
Bengal's only hope Yubrani Banerjee continued her good showing as she breezed past Korea's Eunji Oh, seeded sixth, in the girls singles draw by a 6-3, 6-1 margin, taking an hour to win.
Sixteen-year-old Delhi boy Bikramjeet Singh Chawla pushed second seed Hazem Naow of Syria to the brink as the latter somehow managed to claim the pre-quarter final encounter by a very close 7-6(4), 7-6(5) in an hour and fifty five minutes.