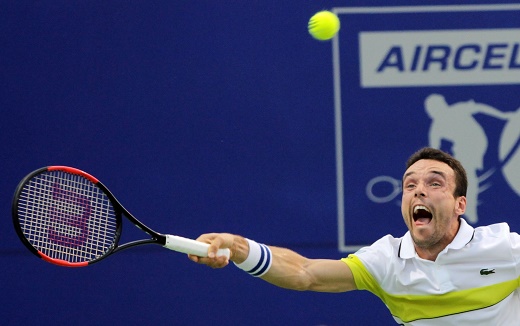 New Delhi: Second seed Roberto Bautista Agut of Spain will take on Russia's rising star Daniil Medvedev in the final of the Chennai Open tennis championship match here at the SDAT Stadium on Sunday evening.
World No. 14 Bautista Agut put up a clinical performance to humble fifth seed Benoit Paire of France 6-3, 6-3 in just over an hour.
Medvedev took the longer route into his maiden ATP World Tour final, coming back from one set down and saving a match point in the second to win 4-6, 7-6 (2), 6-2 against Dudi Sela of Israel.
Bautista Agut, who will be playing his second final here, believes that he faces a tough task in the final against Medvedev.
"Yes, it is going to be a difficult match. He is tall, has a good serve and a number of strokes from the baseline. I will come prepared and play my best tennis," he said.
The 28-year-old Spaniard felt that he felt good after a long fought three-setter in the quarter-finals on Friday.
"I won because I played well, no. I played a solid game, and did all the right things. I felt really good after spending so much time on the court last night," he remarked.
Bautista Agut got an opportunity in the fourth game itself but Paire saved both the break points, riding on his big serve. He got another one in the eighth game and Paire helped him by hitting a simple overhead volley into the net. The set ended in just 30 minutes.
He got a break in the opening game of the second set itself. Paire lost his cool and suffered two more breaks to make it a total mismatch.
Earlier, Israel's 31-year-old journeyman Sela looked like he had the match well within his grasp as he covered the court smartly and mixed his shots almost to perfection. His deceptive double-handed flicks often caught Medvedev guessing giving him the edge. When he saw an opportunity, he added extra power into his forehand drives too for maximum effect.
Sela got the upper hand in the seventh game when Medvedev missed an overhead volley. The next game proved to be the most absorbing, with both players engaging in long end-to-end rallies. Sela faced two break points but managed to save both of them. He held on to his serve to go 5-3 up.
Medvedev changed tack at this stage, attacking the ball a lot more aggressively and looking for winners. He held serve for 4-5 but couldn't find a way to crack Sela to lose the set in 40 minutes.
The quality of tennis peaked in the second set, with both players lifting their games. Medvedev broke in the fourth game to jump into the lead 3-1. But Sela, against the run of play, came right back. They held serves till 4-4 before Sela got the much-needed breakthrough in the next game and looked set to wrap up the set and match too.
He was on match point too but Medvedev whipped out a forehand that barely caught the line. He took the next two points to save the game and set. In the eventual tie-breaker, Medvedev rode on his powerful serve to jump to 4-2 and annexed the next three points to win 7-2.
Sela perhaps still brooding over the missed opportunity, yielded his next game to go down 0-1. Medvedev took charge of the match and cruised away to 4-2. He got another break in the seventh game by which time Sela had all but given up.