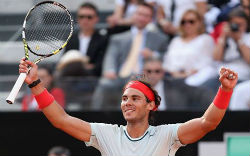 New Delhi: Indian doubles pair of Leander Paes and Saketh Myneni fought hard before losing to Rafael Nadal and Marc Lopez in close match by 6-4, 6-7(2), 4-6, 4-6 here at R K Khanna Stadium on Saturday. The not only gave Spain an unassailable 3-0 lead over India in World Group Play Off in Davis Cup, but also helped them to qualify for the World Group.
The match started with India winning the toss. This was the first time Leander Paes and Saketh Myeni were playing together in the doubles. India started the match as underdogs but in the very first game they showed the Spaniards that they were not going give up this match easily. India won the first set with 6-4 lead and was playing with courage and determination. The Indian duo were targeting the Marc Lopez serves. The height of Saketh Myeni was also an advantage as he played some fantastic shots towards Lopez who seemed to falter.

In the second set India again took a 5-3 lead but the Spaniards took control of the game and went on to win three consecutive sets. The second set was the longest where the result came out in a tie breaker with Spain winning it by 6-2.

In the third set Rafael Nadal came into his sublime form and played some forehand shots that helped Spain win the set to take 2-1 lead.

The closely fought fourth set started with India taking the lead by 4-1, which clearly rattled the Spaniards. Later, Rafa taking the charge played some aggressive shots which took the Indians by surprise and helped Spain win the set 6-4.

With this win over Indian, Spain took a lead of 3-0 to easily qualify for the World Group.

The two reverse singles matches will be played on Sunday.