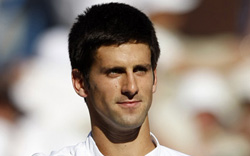 New York: Novak Djokovic got the better of Gael Monfils 6-3, 6-2, 3-6, 6-2 to reach the US open final, here on Arthur Ashe Stadium on Friday. The World No. 1 will now meet Stan Wawrinka, who rallied from an early deficit to defeat Kei Nishikori 4-6, 7-5, 6-4, 6-2, for the title clash.
"It was a strange match, as it always is, I guess, when you play Gael, who is a very unpredictable player," Djokovic said. "So it was a good win for me today."

With the win, Djokovic has now reached seven of the past eight Grand Slam tournament finals, his only absence Wimbledon earlier this year when he fell in the third round to American Sam Querrey. The top seed will try to win the 13th Grand Slam title of his career.

Wawrinka, who beat Nishikori under heat and humidity in a four-set battle, said to ESPN that he knew he could always come back. "My game plan is to be aggressive. I knew I could fight for three, four, five hours. I want to make them suffer and that's what I did against Del Potro and today as well," he said.

Wawrinka moves into a Slam final for the third consecutive year, having defeated Rafa Nadal at the 2014 Australian Open and Djokovic at Roland Garros in 2015.

Meanwhile, World No.1 Angelique Kerber will take on No.10 seed Karolina Pliskova for the women's singles US Open title. No. 2-seeded Kerber said after beating Caroline Wozniacki 6-4, 6-3 in the semifinals, while 10th-seeded Pliskova upset Serena Williams 6-2, 7-6 (5).