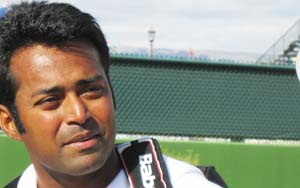 WINSTON-SALEM (NORTH CAROLINA): Indian ace tennis player Leander Paes, teaming up with Andre Begemann of Germany toppled top seeded Lukasz Kubot of Poland and Nenad Zimonjic of Serbia in straight sets 6-4, 6-4 in the doubles quarter-final of the $ 639,255 Winston-Salem Open here.
Paes/Begemann won 67 per cent first service points while their rivals won57 per cent. Kuboit/Zimonjic saved eight out of 12 break points (66 per cent) and Paes/Begermann one break point out of three (33 per cent). Paes/Begermann won 66 per cent of total service points (37 out of 56) and Kuboit/Zimonjic won 54 per cent of total service points (31/57).

Earlier, the unseeded Indo-German pair won 6-4, 6-4 against the Australian-Brazilian combination of Chris Guccione and Andre Sa in the opening round of the $720,940 ATP 250 event to enter the quarter-finals.