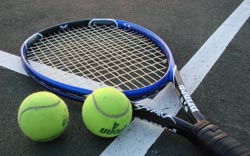 Chandigarh: Sixth seed Indian Kyra Shroff went down fighting in the final against fifth seeded Estelle Cascino of France 6-3, 1-6, 3-6 in two hours and eight minutes in the $10,000 Women's Tennis Tournament in Grand Baie L Croiosette (Mauritius) on Sunday.
Kyra could win 41.7 percent (5 out of 12) service games while Estelle won 61.5 per cent service games (8 out of 13). Kyra fired two aces but committed six double faults while her rival unleashed six aces and committed two double faults.
Kyra started on a confident note having won the first set 6-3 after breaking Estelle in the fifth and seventh games. However, Estelle broke Kyra in the sixth games to make it 3-3.
Estelle fought back and claimed the second set comfortably at 6-1 after breaking Kyra in the third and fifth games.
Estelle led 2-0 in the third and final set. Kyra hit back and broke Estelle in the third game to make it 1-3. They again exchanged breaks in the fourth and fifth games but another break break for Estelle in the sixth game helped her to win the set and match.
Earlier, second seeded Indian Snehadevi Reddy of India was upset Estelle Cascino who won in straight sets 6-2, 6-3 in the semi-final which was marred by rain yesterday.