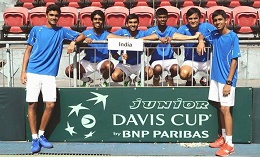 NEW DELHI:The Junior Indian Davis Cup team today qualified for the World Group after
finishing third in the Asia zonal competition which concluded at the
DLTA complex today.
India beat Australia 2-0 in the Play-off with Adil Kalyanpur and Sidhant Banthia
winning their respective singles matches.
Rewarding the boys for their stupendous show, AITA President Anil Khanna
has sanctioned Rs one lakh each for all five players in the team including two
reserves.
"It's a kind of scholarship for the kids. They have done well and we are happy to
reward their performance," Anil Khanna, also ITF Vice President said.
India coach Vishal Uppal said he was pleased with his wards' show.
"It's a tremendous achievement. The last time we qualified was five years back.
Nobody gave us a chance at the start of the tournament but we played some
great tennis. We could have beaten even China and Japan but they were really
close matches. We showed that we could have won the event as well," Vishal
Uppal, former Davis Cupper said.