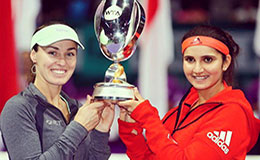 WTA Doubles Co-No.1s Martina Hingis and Sania Mirza maintained their perfect start to 2016 - and their still-unbroken winning-streak - in the final of the St. Petersburg Ladies Trophy, winning their 40th straight match over Vera Dushevina and Barbora Krejcikova, 6-3, 6-1.
Dropping just one set through four more victories in Russia, "SanTina" are now within striking distance of surpassing the longest winning streak since 1990, when Jana Novotna and Helena Sukova won 44 in a row; the reigning Wimbledon, US Open, and Australian Open champions still have a way to go to break the ultimate record of 109 - held by Martina Navratilova and Pam Shriver in 1983.
"We're obviously very happy to win another title but now that we're coming closer and closer to the next target of 44, we can't help but think about," Mirza said after the final.
"But it's not something we really want to think about; we're really excited ot be at 40! We didn't think in our wildest dreams that this was going to happen. I think I can speak on behalf of both of us that we're going to play every match on merit and try to get to 44."
With this win the Indo-Swiss pair has now won 13titles, including wins in Brisbane, Sydney and Australian Open before winning St. Petersburg Ladies Trophy title this year.