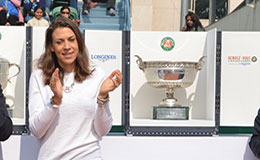 NEW DELHI: The All India Tennis Association (AITA) has decided that winners of the ongoing Rendez-Vous leg will be awarded wild cards for the Delhi Open (ATP Men's USD 50,000 and ITF Women's USD 25,000) starting next week.
The winner in both boys and girls event will get wild card entry into the singles main draw while the finalist will get a wild card for the qualifying event.
16 boys and as many girls are competing in the Rendez-Vous, a joint initiative of AITA and French Tennis Federation (FFT), the winners of which will compete with champions of similar events in Japan, South Korea, China and Brazil to earn a wild card into the junior French Open.
"This step is for furthering the cause of the Memorandum of Understanding (MOU) we have signed with FFT. Our association with them started with the aim of helping our junior players develop an all round game and get exposure.
Taking forward the initiative, AITA has decided to award wild cards to winners of the Rendez-Vous A' Roland Garros event," AITA President Anil Khanna said.
"We are committed to help our junior players in whichever way we can. Playing in Delhi Open will be a great opportunity for them to assess themselves at that level of international tennis."