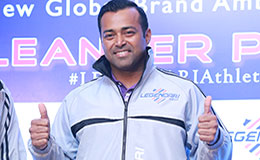 CHENNAI: 17-time Grand Slam champion, tennis superstar and India's Padma Bhushan awardee, Leander Paes has been appointed as the Global Brand Ambassador of the Legendari Goup for a period of three years (2016-2018).
Legendari Group's association with Paes will commence from 2016's first tournament on the ATP World Tour, the Chennai Open. The move is made more significant with 2016 being an Olympic year. The Legendari Group will support Paesin every step towards achieving Olympic glory as he prepares to participate in the prestigious quadrennial event for a 7th consecutive time, a record for an Indian sportsperson and in tennis internationally, and an achievement held by very few world athletes.
In his role as Global Brand Ambassador, Leander will be part of #TeamLEGENDARIAthlete. The Legendari Group aims to utilize the power of brand Leander asa springboard to promote tennis and other growing sports across India and Asia. The Group aims to be Asia's leading Sports Management Company and a global leader in sports innovation and sportainment.
Founded in 2015, the Legendari Group is based in Singapore with offices in Dubai and Tokyo. It made its foray on the world map with ownership of the Japan franchise, the Legendari Japan Warriors, in the recently concluded International Premier Tennis League (IPTL) 2015. Leander was an integral player of the team that played across five venues – Japan, Philippines, India, Dubai and Singapore, along with other team-mates that included tennis superstar Maria Sharapova, Kei Nishikori, Marat Safin, Mirjana Lucic, Philipp Kohlschreiber and Kurumi Nara.

Unveiling his tennis jersey that will now don the Legendari Group logo, Leander Paessaid, "I am thrilled to growmy partnership with the Legendari Group and work closely with them as a Global Brand Ambassador. Having been associated with the Group as part of the LegendariJapan Warriors, I am excited to associate with them to promote sports, especially tennis. It is an honour to be the first #LegendariAthlete, and I look forward to utilizing my abilities to drive the growth of sports as a way of life."
Legendari Group was founded by sports entrepreneur and enthusiast, Shanthan Reddy. Reddy completed his MBA in Sports Administration from Switzerland, and went on to gain immense experience in the industry working across multiple countries in Asia, Europe and America. Having worked with national and international sports federations, Reddy's astute business sense and passion for sports, especially tennis, cricket and hockey led him to start this new business.
Presenting Leander the new jersey, Executive Chairman & Managing Director, Shanthan Reddy said, "Leander has inspired many generations of tennis players and sportsmen in our country, and across the world with his game. We are absolutely delighted with this opportunity, and wish him success at Rio 2016 and through the year. Sports knows no boundaries and is gender agnostic. We at the Legendari Group are committed to sports, and will continue to identify and add similar such sports initiatives to our portfolio with an aim to emerge as a global leader."
The Legendari Group will have Navneet Sharma at the helm of affairs. With more than 23 years in the sports, media and leisure industries, Navneet comes with rich, varied strategic and operational experience and deep-rooted relationships in the global sports and media industries.
Speaking at the press conference, Group Chief Executive Officer, Navneet Sharma said, "Leander is a towering sports personality in the field of tennis in India and globally. With 17 Grand Slam titles to his name, he continues to be one of the fittest players on the Tour. His indefatigable spirit is infectious, and we are delightedthat he will partnering with the Legendari Group in its global initiatives."
The Legendari Group has interests in tennis, cricket, hockey, football among other sports. Its vision is to create a value-based sports culture and community eco-system that will promote sports with investments in talent and facilities development. Its key areas of focus will be sports management and marketing, media rights managements, athlete management, sports entertainment and event production.