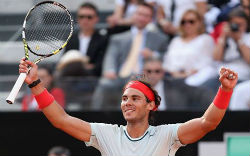 New Delhi: Multiple Grand Slam champion and former world no.1 -Rafael Nadal will make his debut in Season 2 of the Coca-Cola International Premier Tennis League (IPTL) scheduled from 2nd to 20th December 2015, as the marquee player Indian Aces, the league's defending champions.

The path breaking, team-based and multi-nation tennis league has five teams in its second edition with the Japan Warriors joining the quartet of the Indian Aces, the UAE Royals, the Philippine Mavericks and the Singapore Slammers. Season 2 of the IPTL will start on 2nd December in Japan and conclude with a grand finale at Singapore's Indoor Stadium on December 20th.
Nadal will have for company in the Indian Aces: hard hitting Frenchman Gael Monfils, fiery Pole Agnieszka Radwanska, veteran champion and on-court magician Fabrice Santoro, 2015 French Open doubles champion Ivan Dodig, and two of India's highly successful doubles stars -women's world no. 1 doubles champion Sania Mirza and men's world no. 10 doubles star Rohan Bopanna.

A major highlight in season two of the IPTL is a much anticipated encounter between long standing on-court rivals, Rafael Nadal and Roger Federer, who will turn out for the UAE Royals. Indian tennis fans will get to be a part of this marquee match-up when the Indian Aces face the UAE Royals in Delhi on the 12th of December. This match-up will showcase some of the best skills that these two legendary players have to offer, skills that have been on display throughout the course of their decade 2 long rivalry – most recently in the semi-finals of the 2014 Australian Open where Nadal overcame his Swiss opponent in 3 straight sets.
Fans will be treated to a classic encounter packaged in the exciting and engaging IPTL format.

Mahesh Bhupathi, IPTL's founder and Managing Director said, "Season one of IPTL brought some of the world's biggest tennis stars to cities in Asia for the very first time in an exciting new format. The reception shown by fans was a revelation. This year the event will be bigger. We have added a big market in Japan and with both Nadal and Nishikori playing, fans will be in for a thrilling three weeks. Indian sports lovers have a lot to look forward to in Delhi from the 10th to 12th of December."

Gulshan Jhurani, co-owner Indian Aces said, "The Indian Aces will fight hard to retain the title in the second edition of the IPTL and with Nadal leading the side, we are poised to do well. The team has an effective blend of power hitters, players with guile and finesse and some very effective doubles combinations. With such a terrific combination of tennis players, we are confident of retaining the IPTL crown."

Season one of the IPTL was a phenomenon – captivating sports fans across Asia and TV audiences in over 125 countries. The fast-paced, code breaking format featuring some of the top tennis stars – current men's and women's Grand Slam champions, iconic tennis heroes from the recent past and top talent from Asia, drew capacity crowds to stadiums in Manila, Singapore, New Delhi and Dubai.

Staying with the features introduced in the inaugural season, the traditional tennis format has been revamped with single-set, no-add scoring to speed up the games. This gives fans the opportunity to experience tennis between 24 different players competing in one evening across various match combinations consisting of singles, doubles, mixed-doubles and legends sets. Other unique aspects that will make a reappearance in this year's edition include Happiness PowerPoints, shoot-outs, a running shot clock and exciting in-game live music and entertainment.

By being able to recruit top stars like Serena Williams (playing for the Philippine Mavericks), world no.1 and current Wimbledon champion Novak Djokovic (leading the Singapore Slammers) Roger Federer and the only Asian to play in a Grand Slam Final Kei Nishikori (member of the all new Japan Warriors), fans across Asia will finally be able to see their favourite tennis stars up close and personal as the IPTL enables increased fan engagement.