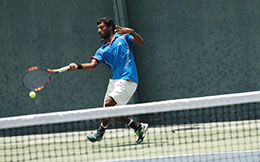 MANDYA (Karnataka), May 19: Fourth seed Sasi Kumar Mukund was the lone seeded player to be stretched from among seven seeds who took to the courts in the first round of the Mysore Minerals Ltd Men's ITF $10,000 Mandya Open singles play at the PET Sports Complex on Tuesday.

Sasi conceded the second set via the tie-breaker before wrapping up the third set against a determined Anvit Bendre to move into the second round with a 6-4, 6-7 (3), 6-3 verdict.

Tournament top seed Antoine Escoffier of France drove straight to the tournament venue from Bangalore, after missing his scheduled flight from France, to dispose off wild card recipient and upcoming Indian youngster Aryan Goveas (Ind) in straight sets as seeds took their appointed places in the second round without much fuss.

Maharashtrian Akash Wagh had to slug it out against Lakshit Sood, the score line of 6-4, 7-5 in favour of Wagh being misleading for a match that lasted a little over two hours. Wagh will take on No 8 seed Vishnu Vardhan in the second round.

In doubles play the Japanese pair of Shotaro Goto and Kazuma Kawachi, seeded No. 4 bested the Indian pair of Rohan Bhatia and Abdullah Shaikh in straight sets to enter the last eight while Haadin Bhava pairing up with Tejas Chaukulkar breezed past another Indian pair Jatin Dahiya and Sidharth Rawat 6-1, 6-4 and the last pair to make it to the quarters were India's Maninder Singh and Siddarth Vishwakarma with a 6-3, 6-1 verdict.

Results: (Prefix denotes seeding):

Men's singles (1st round): (7) Vinayak Sharma Kaza (Ind) bt Sahil Gaware (Ind) 6-3, 6-3; (6) Jui-Chen Hung (Tpe) bt Jayesh Pungliya (Ind) 6-1, 6-4; Chandril Sood (Ind) bt Shotaro Goto (Jpn) 4-6, 7-6 (5), 6-2; (2) Ranjeet Virali Murugesan (Ind) bt Haadin Bava (Ind) 6-1, 6-3; (8)Vishnu Vardhan (Ind) bt Aditya Deswal (Ind) 6-3, 6-4; Akash Wagh (Ind) bt Lakshit Sood (Ind) 6-4, 7-5; (1) Antoine Escoffier (Fra) bt Aryan Goveas (Ind) 6-4, 6-1; (4) Sasi Kumar Mukund (Ind) bt Anvit Bendre (Ind) 6-4, 6-7 (3), 6-3; (5) Mohit Mayur Jayaprakash (Ind)bt Niki Kaliyanda Poonacha (Ind) 6-1, 7-5.

Doubles (First round): Haadin Bava (Ind)/Tejas Chaukulkar (Ind) 6-1, 6-4; (4) Shotaro Goto (Jpn)/Kazuma Kawachi (Jpn) bt Rohan Bhatia (Ind)/Abdullah Shakh (Ind) 6-1, 6-3; Maninder Singh (Ind)/Siddarth Vishwakarma (Ind) bt Rahul Robinson Manoah (Ind)/Ribhav Ravikiran (Ind) 6-3, 6-1.