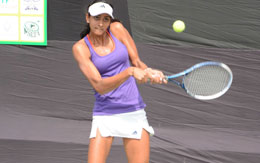 Pune: Rutuja Bhosale and Karman Kaur Thandi picked up two of the eight qualifying spots with hard-fought wins in the Qualifying tournament for the NECC-ITF women's $25,000 tennis tournament at the Deccan Gymkhana here on Sunday.

The 16th seeded Rutuja, who came here on two-week break from her College in the United States, was taken to the distance by Georgian Oksana Kalashnikova but the Indian prevailed.

After being forced to play tie-break in the first set, the Pune girl Rutuja, took control of her serves and returned well to upset Oksana's rhythm. Rutuja won the tie-break 7-3 and then wrapped up the match by winning the second set 6-4.


Unseeded Karman Kaur Thandi then shocked 14th seeded Shweta Rama 6-3, 6-3, but the third Indian in the fray, Rishika Sunkara, failed to make the grade.


Up against the top seeded Japanese Miki Miyamura, Rishika lost in three tough sets 4-6, 7-6 (7-2), 5-7.


Others who made it to the main draw were Silvia Njiric of Croatia, Magdalena Frech and Katarzyna Kawa, both from Poland, Buayam Kamonwan of Thailand, and Cristina Ene of Romania.


The 12th seeded Romanian caused a minor upset as she beat the sixth seeded Chloe Paquet of France 5-7, 6-3, 6-3.


Anastasiya top seeded

After almost withdrawing from the tournament, Anastasiya Vasylyeva of Ukraine landed in Pune to boost the quality of the field.


The World ranked 172 Anastasiya had entered in both the last week's $25,000 event in Navi Mumbai and also this Pune event. She had withdrawn from the Navi Mumbai event as she could not fly out from her country as the war-torn city's Kharkiv airport had been shut for a while.


There was no communication from her side, but Anastasiya decided to take a long train journey from Kharkiv to Kiev and fly out from there to Mumbai.

Anastasiya has been top seeded followed by Cindy Burger of the Netherlands. India's Ankita Raina is ranked fourth behind Sofia Shapatava of Georgia.


Results:

Final Qualifying Round: 2-Silvia Njiric (Cro) bt Diana Bogoliy (Ukr) 6-3, 7-6 (7-2); Karman Kaur Thandi (Ind) bt 14-Shweta Rana (Ind) 6-3, 6-3; 7-Magdalena Frech (Pol) bt Bhuvana Kalva (Ind) 6-2, 6-2; 9-Katarzyna Kawa (Pol) bt 8-Barbara Bonic (Srb) 6-4, 6-4; 16-Rutuja Bhosale (Ind) bt 5-Oksana Kalashnikova (Geo) 7-6 (7-3), 6-4; Buayam Kamonwan (Tha) bt 3-Ching-Wen Hsu (Tpe) 6-4, 6-4; 1-Miki Miyamura (Jpn) bt 11-Rishika Sunkara (Ind) 6-4, 6-7 (2-7), 7-5; 12-Cristina Ene (Rou) bt 6-Chloe Paquet (Fra) 5-7, 6-3, 6-3.

Seedings:

Singles main draw:

1. Anastasiya Vasylyeva (Ukraine), 2. Cindy Burger (the Netherlands), 3. Sofia Shapatava (Georgia), 4. Ankita Raina (India), 5. Manon Arcangioli (France), 6. Katy Dunne (Britain), 7. Polina Leykina (Russia), 8. Veronika Kapshay (Ukraine).