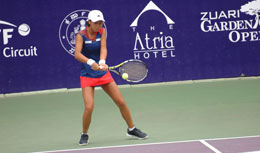 Bangalore, Aug 8: Fifth seed Ching-Wen Hsu toppled tournament top seed Prarthana Thombare in straight sets 6-4, 6-2 to storm into the final of the Zuari Garden City Open, $10,000 ITF Women's event here at the KSLTA Courts on Friday.

Hsu will take on tournament second seed Fatma Al Nabhani who thwarted the challenge of Indian fourth seed Rishika Sunkara 6-3, 5-7, 6-2 in the second semi-final.

Thombare, who was expected to breeze into the title round was a mere shadow of herself in comparison to her Chinese Taipe opponent, who showed determination and lifted her game when the occasion demanded.

Thombare was broken in the very first game of the contest and that kind of set the trend for her downfall. Hsu broke the Indian again in the fifth game to take a 4-1 lead. The top seed showed signs of recovery when she broke her opponent in the 6th and 8th games to level game scores but was broken in the 9th and that was enough for the fifth seed to pocket the first set.

The second set saw Thombare being cracked in the 3rd, 5th and seventh games while managing to break in the 6th. A niggling muscle strain did not help matters either. Even off-court treatment and change of attire did not change Thombare's stars.

The second semi-final saw the second seed Omani dominating for the better part of the contest. Both players seemed to hit lows in their game although, Rishika did so more often. The first set saw Rishika actually hold serve just once while breaking Nabhani twice and being broken thrice.

The second set saw the Indian lift up her game. She broke Nabhani in the first game and stayed ahead till the seventh game before being broken in the eighth. But she broke back immediately to wrest the initiative and ensured the decider would come into play.

The form of her second set play deserted Rishika as Nabhani, playing with a taped palm due to blisters, raised her game breaking the fourth seed Indian in the 3rd and 5th games to breeze into the final to be played on Saturday.

Heavy rains forced the postponement of the doubles final in the evening. The singles final will be played at 11.30 am and the doubles final at 2.30 pm.

Results: (Prefix denotes seedings)

Singles: Semi-finals: (5) Ching-Wen Hsu (Tpe) bt (1) Prarthana Thombare (Ind) 6-4, 6-2; (2) Fatma Al Nabhani (Oma) bt (4) Rishika Sunkara (Ind) 6-3, 5-7, 6-2.