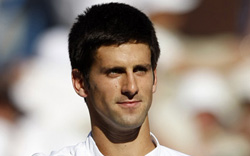 London: Novak Djokovic today returns to No. 1 in the Emirates ATP Rankings for the first time since the week of 30 September 2013. And in a double reward for capturing his second Wimbledon title on Sunday, Djokovic has earned the right to play for a fourth Barclays ATP World Tour Finals crown, at The O2 in London from 9-16 November.

In lifting his seventh Grand Slam championship trophy with victory over Roger Federer at the All England Club, Djokovic overtakes Rafael Nadal at No. 1 and begins his 102nd week at the top of men's professional tennis – the eighth-longest overall reign.

On reclaiming the No. 1 spot and qualifying for the Barclays ATP World Tour Finals, Djokovic said, "It feels great not only to win Wimbledon again but also to return to No. 1 in the [Emirates] ATP Rankings. I got to No. 1 for the first time in my career after winning Wimbledon in 2011 so it is nice to do it again here. I can't wait to return to London to defend the [Barclays] ATP [World Tour] Finals title. I have had a good run there in the past two years. I really enjoy playing at The O2."

The 27-year-old Djokovic, who will be making his eighth straight appearance at the Barclays ATP World Tour Finals, has become the first singles player to qualify for the prestigious season finale. He first won the title in 2008 (d. Davydenko), when the tournament was held in Shanghai, and claimed back-to-back crowns at The O2 in 2012 (d. Federer) and 2013 (d. Nadal).

ATP Executive Chairman and President, Chris Kermode, said, "We are delighted that Novak has become the first player to book his place at this year's Barclays ATP World Tour Finals at The O2 in London. He is having an outstanding season and is fully deserving of his place as current World No.1. Fans in the UK and around the world will already be looking forward to welcoming back this year's Wimbledon champion to London in November, where he'll be looking to win a third successive season-ending title."

After finishing his 2013 ATP World Tour campaign with four straight titles, Djokovic extended his winning streak to 28 straight matches before a loss to Stan Wawrinka in the Australian Open quarter-finals. He won three ATP World Tour Masters 1000 titles – at the BNP Paribas Open in Indian Wells, the Sony Open Tennis in Miami and Internazionali BNL d'Italia in Rome – and came up just short in his bid for a career Grand Slam, when he finished runner-up to Nadal at Roland Garros in a match with the No. 1 mantle on the line.

Djokovic first ascended to No. 1 in the Emirates ATP Rankings on 4 July 2011, following his maiden Wimbledon triumph, and held the top spot for 53 weeks. He reclaimed the No. 1 ranking from Federer on 5 November 2012, before relinquishing it to Nadal on 7 October 2013. Djokovic was the year-end ATP World Tour No. 1 in 2011 and 2012.

Courtesy: ATP World Tour