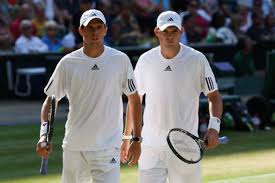 Florida: American brothers Bob Bryan and Mike Bryan have clinched the year-end No. 1 Emirates ATP Doubles Team Ranking for a record ninth time and for the fifth consecutive season.
The 35-year-old twins were guaranteed the year-end No. 1 ranking after winning their 25th ATP World Tour Masters 1000 title at the Western & Southern Open in Cincinnati. Never before has a team clinched year-end No. 1 this early in a season. Cincinnati was their 10th title of an outstanding 2013 campaign, which has seen them triumph at the Australian Open, Roland Garros and Wimbledon, making them the first team in tennis history to hold all four majors and the Olympic gold medal at the same time.

They were also champions in Sydney, Memphis, Indian Wells, Madrid, Rome and Queen's, as well as finalists at Houston and Monte-Carlo. Beginning in Madrid in May, they compiled a remarkable 25-match winning streak, which eventually came to an end in the Montreal quarter-finals in August.

They now go to the US Open looking to become the first team in the Open Era to win the calendar Grand Slam. Not since Ken McGregor and Frank Sedgman in 1951 has a team won all four Grand Slams in a season.
"To clinch the year-end No. 1 ranking this early in the season is a dream come true," said Bob. "It's always our ultimate goal starting out each season and this will give us great confidence going into New York. There is still a lot of tennis left and we want to keep our foot on the gas."
Together with Todd Woodbridge and Mark Woodforde, the Bryans are one of only two teams to have won every Grand Slam title as well as an Olympic gold medal. They have won the most doubles team titles in the Open Era with 92, and Mike has the most individual titles with 94.
They also finished as the ATP World Tour No. 1 Doubles Team in 2003, '05-'07 and '09-12. As individuals, Mike has been ranked No. 1 in the Emirates ATP Doubles Rankings for 342 weeks and Bob for 333.
The Bryans are bidding to crown their season by winning the Barclays ATP World Tour Finals for the fourth time, adding to titles in 2003-04 and 2009. They have qualified for the eight-team season finale for the 11th straight year (2003-2013) and 12th time overall (also 2001).
Buy Tickets To See The Bryans At The Barclays ATP World Tour Finals.
ATP WORLD TOUR YEAR-END NO. 1 DOUBLES TEAM
Year Player
2013 Bob Bryan/Mike Bryan
2012 Bob Bryan/Mike Bryan
2011 Bob Bryan/Mike Bryan
2010 Bob Bryan/Mike Bryan
2009 Bob Bryan/Mike Bryan
2008 Daniel Nestor/Nenad Zimonjic
2007 Bob Bryan/Mike Bryan
2006 Bob Bryan/Mike Bryan
2005 Bob Bryan/Mike Bryan
2004 Mark Knowles/Daniel Nestor
2003 Bob Bryan/Mike Bryan
2002 Mark Knowles/Daniel Nestor
2001 Jonas Bjorkman/Todd Woodbridge
2000 Todd Woodbridge/Mark Woodforde

Courtesy: www.atpworldtour.com