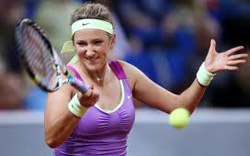 Victoria Azarenka is hoping that three times is the charm. The world No. 3 devastated former champion Francesca Schiavone 6-3, 6-0 and entered the quarter-final here for the third time in her career. She will be hoping that she can finally break though to the final four, as Roland Garros is the only Grand Slam she has been unable to pull off that feat.

The two-time Australian Open champion was lethal and accurate from inside the baseline, never allowing the Italian to dictate play or confuse her with her variety of spins and speeds. The veteran Schiavone caught fire in the previous round against Marion Bartoli, but she was forced to play off the back foot against Azarenka, who consistently attacked her services with her fiery returns and kept her off balance with pinpoint placement of her own serve.

"My execution wasn't the best probably in the first of couple games, but Francesca is such a great player, it takes sometimes a little bit of time to adjust to her game because she gives always a different ball," she said. "Sometimes you don't know what to expect. But later I felt like I could anticipate a little bit more and really go for my shots and take control."

Azarenka finished the match with 19 winners and 14 unforced errors, while Schiavone nailed only 10 winners and committed 24 unforced errors.

"I think I'm learning more now and I'm adjusting much better," former No. 1 Azarenka said about playing on clay – a surface she has only won one minor title on. "It's no doubt it's been always the most challenging for me, but I feel like I'm finally understanding what I need to do to improve. And I feel it's a process, but I'm on the right way."

Last year, Azarenka suffered a rapid-fire loss to Dominika Cibulkova in the fourth round, while in 2011, eventual champion Li Na stung her in the quarters. Few active players have reached the semis or better at all the majors, but the two players ranked above her in the world, Serena Williams and Maria Sharapova, are among them, and both have won the title here as well.

"The next step is the quarter-finals," Azarenka said. "I'm excited that all the preparation I have been doing is doing well. It's definitely a great opportunity to take that (next) step.


Meanwhile in the other tie of Women's category, it was Not for nothing for Maria Kirilenko who back up at an equal career-high ranking of No.12 - and with her fourth-round win over Bethanie Mattek-Sands at Roland Garros 2013, she is set to pierce the top ten for the first time.

The two women battled out a gritty encounter in which short games were rare, and in the end the Russian's superior class over the world No.66 told. Mattek-Sands will also profit in the rankings by equalling her own career best Grand Slam performance, but Kirilenko it was who progressed to the quarter-finals, winning 7-5, 6-4. Yet to drop a set, she will meet Victoria Azarenka in the last eight.

Mattek-Sands went into this match with reason to be positive. She has plenty of wins against top 20 opposition under belt – 13, actually, with the last six all on clay – and she had that tremendous second-round win here over 2001 champion Na Li. Ranked as high as No.30 two years ago, in the first half of last year she found herself frequently suffering from fatigue for no apparent reason, before being diagnosed with a whole clutch of food allergies. A change in diet paid dividends in her game: having begun 2013 down at
No.173 in the world, a strong clay-court season bounced her up to No.66 on arrival here.

It was Mattek-Sands, 28, who took the initiative early on to break with the aid of an ill-timed double fault. At 4-1 she had won all her first service points, but in the following game, Kirilenko forced her way through with a crosscourt backhand volley, then levelled for 4-4.
Mattek-Sands stayed in it to 5-4, when the trainer came on court and she had a medical time out. By 5-5 this was a gripping contest. Mattek-Sands saved two break points for 5-6 but couldn't hold back a third. She got to 0-30 and had a shot for three break points but sent the ball wide.

On her first set point, Kirilenko double-faulted for the fifth time – indeed her first service did not fire on all cylinders throughout the match, although her second often saved her bacon. At the second time of asking however, she forced an error from the American to bag the set after 66 minutes.

There was no let up in the second. Mattek-Sands was broken but stubbornly broke back, calling on all of the fighting spirit that she is reputed for. The long first set began to take its toll on her however, and Kirilenko duly breached her defences again. At 3-2 a reason for the Russian's misfiring service emerged when she called the trainer on court for a medical timeout to manipulate her right shoulder. The treatment turned out to be enough to ensure that no amount of attack from Mattek-Sands could level the match.


"It's good to be able to say I'm a quarter-finalist at last," said Kirilenko. But she cast doubt on whether Mattek-Sands really needed the trainer on court. "I was a bit surprised. I thought maybe she joke with me, so it was like little bit not maybe nice from her. Maybe she really had some problems. I don't know. For me, it was cold and the balls were heavy and I did funny movement in my serve so I'm going to the physio. Hopefully it's ok."


Kirilenko will need to serve way better than this against Azarenka if she is to win through to her career first Grand Slam semi-final, but at the age of 26 she is on the brink of becoming a top ten player at last.

Courtesy: Kirilenko will meet Victoria Azarenka in the last eight, www.rolandgarros.com