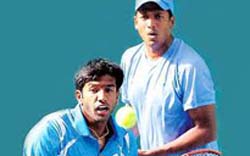 London: India's Mahesh Bhupathi and Rohan Bopanna went down to sixth seeds Marcel Granollers and Marc Lopez from Spain 7-5, 3-6, 10-3 for the Barclays ATP World Tour Finals title at The O2 in London on Monday.
Granollers and Lopez, playing one-up and one-back to great effect, took a 2-1 lead in the first set, after Granollers hit three successive forehands at Bopanna, who hit a backhand volley into the net on the deciding point. However, Lopez was broken in the next game.

At 5-5, Bhupathi mis-placed two serves to fall to 0/30. The 38-year-old Bhupathi made two further backhand volley errors, off Granollers forehands. Serving for the set, Lopez faced sudden death deuce and break point, but Granollers intercepted a backhand volley to clinch the opener in 43 minutes. The Spaniards had won 23 of their 34 service points.
Midway through the second set, at 3-4, the Indians set up two break point chances at 30/40. Lopez centred play on Bhupathi, less flashier and powerful than Bopanna, to recoup one point, but on the deciding point Granollers committed a forehand error. Bopanna then coolly closed out to 30 with the team's fifth ace of the set, which lasted 35 minutes. Bhupathi and Bopanna had won 76 per cent of their first service points.
Clever inter-play and defence by Granollers and Lopez gave them a 4-0 lead in the Match tie-break, which saw Bhupathi and Bopanna guilty of not putting away their volleys and rushing into their strokes. Having won six of the first seven points, Granollers and Lopez weathered a Bhupathi grounstroke blitz. At 9-3, with Lopez serving, Bhupathi put a forehand volley long. Granollers and Lopez ran to one another in celebration after capturing the biggest title of their careers.

Courtesy: www.atpworldtour.com