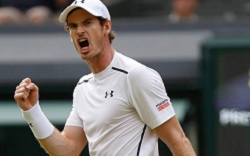 London: Andy Murray captured his second Wimbledon crown and third major championship overall as he defeated Milos Raonic 6-4, 7-6(3), 7-6(2) in the final, here on Sunday.
World No. 2 Murray broke through in the seventh game of the first set as Raonic netted a forehand volley. Raonic fended off break points in the first, seventh and ninth games of the second set to force a tie-break, but a volley error on the first point by the Canadian set the tone as Murray raced away to seal a two-set lead.
Raonic created his first break point opportunities of the match in the fifth game of the third set, with Murray trailing 15/40, but the Scot denied him on both as he held for a 3-2 lead. But Murray again controlled the ensuing tie-break to wrap up victory on his second championship point in two hours and 47 minutes.
According to www.atpworldtour.com, Murray said, "This is the most important tournament for me every year. I've had some great moments here and also some tough losses. The wins feel extra special because of the tough losses. I'm proud to have my hands on the trophy again. I played really good stuff today. Milos has had a great few weeks on the grass and had some unbelievable wins. His match against Roger in the semis was a great, great match. He is one of the hardest workers out there, always trying to improve and get better."
Courtesy: www.atpworldtour.com