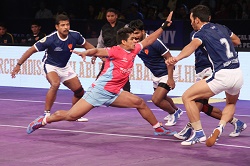 New Delhi: Rajesh Narwal scored 16 points as Jaipur Pink Panthers crushed Dabang Delhi KC 51-26 as they became the first team to reach the 50-point mark in the fourth season of Star Sports Pro Kabaddi League. Dabang Delhi KCwas diabolical and Jaipur Pink Panthers made them suffer with a terrific all-round performance.
It was the third win of the season for Jaipur Pink Panthers as got the top spot – on score difference -- with 20 points after six matches. Dabang Delhi KCdefence had a bad night, as they remained seventh in table with nine points after five games.
Selvamani opened Dabang Delhi KC account in the third minute while Ajay Thakur followed it in the next minute for Jaipur Pink Panthers. After first six minutes, KashilingAdake got his first raid point as the teams were tied at 2-2. Jasvir Singh scored two raid points as Jaipur Pink Panthers led 5-2 after eight minutes. Delhi was in disarray as Jaipur Pink Panthers inflicted an all-out to lead 12-4 after 11 minutes.
Jaipur Pink Panthers surged ahead by 11 points with 15 minutes gone and led 17-6. Selvamani got two raid points for Dabang Delhi as they reduced the deficit to nine points and trailed 8-19 in the 17th minute. But Jaipur immediately inflicted an all out as they led 23-8. Dabang Delhi KC defense let them down and they failed to score a single tackle point in the first half. At half time, Jaipur Pink Panthers had a commanding 15-point lead as they led 26-11with Jasvir Singh leading the scoring chart with seven raid points.
Dabang Delhi KC started brightly as they sent Jasvir Singh to the bench in the first minute of the second half. Jaipur Pink Panthers forced two super tackles in in the 30th minute to lead 33-19. After 30 minutes, Dabang Delhi defence had scored only three tackle points whereas Jaipur Pink Panthers defence had 10 points at the same time. Jaipur Pink Panthers inflicted third all-out as they led 40-21 with less than five minutes left on the clock.
Rajesh Narwal scored a super raid in 36th minute as led 43-21. Jaipur Pink Panthers' fourth all out came in the 37th minute as they took an unassailable 49-22 lead. Jaipur were relentless and inflicted the heaviest defeat of the season on any team as they won 51-26