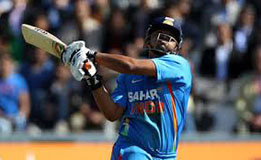 Pune: As India play Sri Lanka in the three-match T20 series starting from February 9, Suresh Raina will start as the highest-ranked batsman in 13th position as the hosts have rested number-one ranked T20I batsman Virat Kohli. Other batsmen featuring inside the top 20 include Tillakaratne Dilshan (14th), Rohit Sharma (17th) and Yuvraj Singh (20th).
India captain MS Dhoni is 38th, 108 points behind Yuvraj, while Shikhar Dhawan is 87th and Ajinkya Rahane 89th.

Among bowlers, India's Ravichandran Ashwin will start in second place, 81 points behind number-one ranked Sunil Narine of the West Indies, while Lasith Malinga is sixth, Nuwan Kulasekara is 10th and Ravindra Jadeja is 18th.

Bowlers outside the top 20 include Bhuvneshwar Kumar (38th), Harbhajan Singh (56th), Thisara Perera (59th) and Dilshan (104th).

In the all-rounders' list, Yuvraj will enter the series in seventh position, 15points behind fifth-ranked Mathews, who has been rested. Australia's Shane Watson is ranked number one, 89 points ahead of Yuvraj.
MRF Tyres ICC T20I Rankings
Batsmen (top 10)
Rank Player Team Pts Ave HS Rating
1 Virat Kohli Ind 892 50.62 897 v Eng at Edgbaston 2014
2 Aaron Finch Aus 868 41.61 892 v Ban at Mirpur 2014
3 Alex Hales Eng 795 34.71 866 v Ind at Edgbaston 2014
4 Faf du Plessis SA 758 39.28 843 v Ban at Mirpur 2015
5 Martin Guptill NZ 741 34.70 793 v SA at Hamilton 2012
6 Kane Williamson NZ 733 36.69 737 v Pak at Hamilton 2016
7 Chris Gayle WI 703 35.15 831 v Aus at Colombo (RPS) 2012
8 H. Masakadza Zim 699! 31.42 699 v Ban at Khulna 2016
9 M. Shahzad Afg 681! 30.86 681 v Zim at Sharjah 2016
10 Kusal Perera SL 678* 27.09 751 v SA at Chittagong 2014
Bowlers (top 10)
Rank Player Team Pts Avge Econ HS Rating
1 Sunil Narine WI 773 17.75 5.69 817 v Pak at St. Vincent 2013
2 R. Ashwin Ind 692 26.45 7.27 717 v SA at Mirpur 2014
3 Shahid Afridi Pak 672 23.90 6.60 814 v SL at Colombo (RPS) 2009
4 S. Senanayake SL 671* 17.45 6.19 712 v Eng at The Oval 2014
5 Graeme Cremer Zim 669! 16.59 6.72 669 v Ban at Khulna 2016
6 Lasith Malinga SL 657 21.02 7.27 684 v WI at Colombo (RPS) 2015
7 M. McClenaghan NZ 643! 25.80 7.68 643 v Pak at Wellington 2016
8 Imran Tahir SA 641* 15.77 6.45 675 v WI at Johannesburg 2015
9 Dawlat Zadran Afg 636! 18.83 7.35 636 v Zim at Sharjah 2016
10 N. Kulasekara SL 628 23.43 7.25 676 v Aus at Melbourne 2013
All-rounders (top five)
Rank Player Team Pts HS Rating
1 Shane Watson Aus 363 557 v SA at Colombo (RPS) 2012
2 Shakib Al Hasan Ban 349 408 v Pak at Mirpur 2015
3 Shahid Afridi Pak 330 413 v NZ at Dubai 2009
4 M. Hafeez Pak 303 441 v SL at Dubai 2013
5 Angelo Mathews SL 289! 289 v NZ at New Plymouth 2016