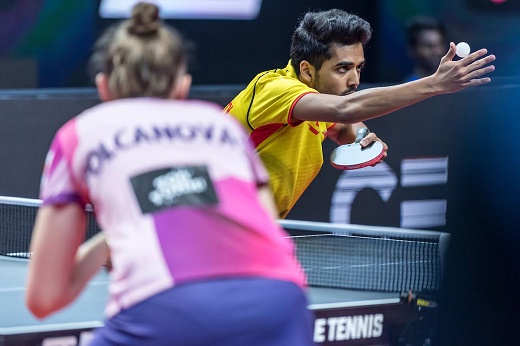 Chennai: An upbeat Falcons TTC will take on confident Dabang Smashers T.T.C on Day 4 of CEAT Ultimate Table Tennis to be played in Nehru Indoor Stadium here in Chennai on Sunday.

Riding on a pumped up performance from India's Sanil Shetty and China's Wu Yang, Falcons TTC made a comeback win after trailing 5-7 half way through in their first tie against RP-SG Mavericks. "Wu Yang's 3-0 win over Sabine in the fifth game was a great confidence booster for the entire team. No doubt it was inspirational as at this point we took lead in the tie," explained Shetty.
The next match Shetty created an upset beating world No. 31 Tiago Apolonia which gave Falcons a 2-point cushion over RP-SG Mavericks. "Wu kept a clean slate in her next game (against Archana Kamath) which brought us closer to winning the tie. The team was pumped after that and the eventual result was a satisfying 15-12 win over Mavericks," said Shetty. The 27-year old knows it's a long way to go in the league with four more games to play, the next coming up against Dabang Smashers T.T.C on Sunday.

On his team's upcoming fixture Shetty feels it would be a great contest as their opponents pulled back from being down by 6-12 to ending the contest at 12-15 against Shazé Challengers on Friday night. "Kim Song I and Marcos (Freitas) did incredible to bring them back in the contest. The last tie between Tetyana and Petrissa was anyone's game. Points don't tell the real story about how well Dabang played actually," Shetty explained.

The Mumbai lad still feels his team Falcons TTC is equipped to match Dabang Smashers T.T.C in all departments and looks forward to playing them.

The league will be broadcast live on Star Sports Select 2 HD, Star Sports Select 2, Hotstar & JioTV.
---