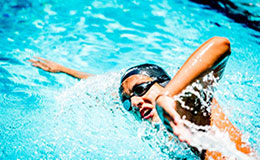 Port Elizabeth: JSW swimmer Aryan Makhija clinched the silver medal in the 1500 meter freestyle event's under-18 age class at the South African Level 3 National Swimming Championship in Port Elizabeth morning.
Aryan, who hails from Mumbai, clocked a time of 16.42.28 seconds while Johannesburg's Roberto Gomez who won gold recorded a time of 16.21.93 seconds. Aryan and Gomez were engaged in a keen tussle at the halfway mark but the South African gradually built up a lead to finish strongly. Aryan's prowess in the event was evidenced by the fact that the 16-year-old finished a full 13 seconds before Christopher Aubin who won bronze.
Aryan is part of a seven-strong contingent of Indian swimmers who are training under renowned South African swimming coach, Graham Hill who is an Olympic Champion Chad Le Clos' personal coach, on a year-long scholarship funded by the JSW Sports Excellence Program. The seven swimmers train at Durban's Seagulls Swimming Club and study at the reputed Glenwood High School.
Hill said that he was pleased by Aryan's effort and his commitment in what was a difficult race. "The 1500m event is always a tough one as it requires the swimmer to ration his effort and peak at the right moments. It looked like Aryan had a pretty good understanding of that. He did well but I believe that he can go faster in certain segments and we will work on that." he said.