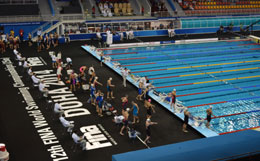 Doha: The 12th FINA World Swimming Championships (25m) isn't just grabbing eyeballs for World Records and Championships Records that are being broken here, the event has scored brownie points in terms of attracting the largest numbers of swimmers from across the world.
"There are 1093 participants in this Championships from 176 countries across the world. This is way beyond the numbers of the last event that took place in Istanbul, Turkey," said Mr Khaleel Al Jabir, President, Qatar Swimming Association and CEO of the 12th FINA World Swimming Championships.
Last year the Championships was held in Istanbul, Turkey, which saw a participation from 958 swimmers from 161 nations.
What's more the Crème de la Crème of world swimming is here to vie for the top honours.
All this thanks to the innovative promotional techniques used by the Qatar Swimming Association. "We used a number of methods for promoting the event and thanks to God that our efforts have paid rich dividends," said Mr Al Jabir.
"Among the most innovative technique used by us was promotion via the social media, which was working in tandem with our marketing team."
Mr Al Jabir wasn't wrong for Qatar Swimming's official page for the 12th FINA World Swimming Championships - https://www.facebook.com/qatarswimmingassociation - has already garnered a large number of likes in less than four days with the final still to go.
No wonder, Doha is becoming the ultimate destination when it comes to hosting sporting events.
"People across different nations are saying that Doha is fast becoming the Centre of Sports for the world and there is enough reason for them to feel that way. The Qatar Olympic Committee would play host to 43 major international events in 2014-15," said Mr Al Jabir.
Among these 43 events there is also the prestigious IHF World Men's Handball Championships that is scheduled from January 15 to February 01, 2015 and the World Boxing Championships that will be held from October 5 to 18, 2015.
The ongoing 12th FINA World Swimming Championships and the recently concluded Qatar PSA Squash World Open and World Military Sailing Championships too have grabbed the maximum attention. This was to speak about the major sporting events. On the whole Qatar would be hosting close to 99 events in 2014-15.
What's more events like the Qatar Fencing Grand Prix, a Women World Fencing Cup, which concluded in November, witnessed participation from more than 300 athletes.
All this will lead up to the biggest sporting extravaganza– the 2022 FIFA World Cup.