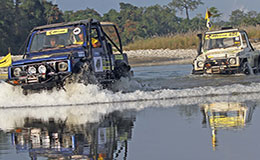 Dirang Valley (Arunachal Pradesh): Former Indian National Rally Championship winner Amanpreet Ahluwalia claimed the JK Tyre Arunachal Festival of Speed crown here on Monday.
The Noida-based veteran rallyist and his navigator Ajay Kumar were virtually unbeatable on each of the three days, conquering eight of the 10 stages to pocket the lion's share of the total prize money of Rs 10 lakh.
Amanpreet continued his domination on the third and final day as well, winning the first three special stages before easing up on the last one.
He finished all the stages, including the Super Special Stage on the opening day in just over an hour to win with an impressive 27-second lead.
"It was an honour to compete against so many good drivers and good cars," Amanpreet said after the race.
"But as a driver I am more comfortable in the hills, especially where it's more about technique than speed, and I guess that's where I scored," he explained.
Amanpreet, who owns one of the largest rally car workshops in India, gave all the credit to his 1300cc turbo charged Gypsy.
INRC regular K.M. Bopaiah went all out in his 1600cc Vento but still had to settle for the second place.
He was barely two or three seconds behind the leader in each of the stages, and even claimed the final stage, but the 28 second deficit over the first two days proved to be a bridge too far to cross.
He finished all the stages in an equally commendable one hour and 29 seconds.
"I gave it my all in the Special Stages. But I guess my car wasn't suited for some of the rough terrains and the uphill climbs," he said.
Delhi's Sandeep Sharma held on to his position to take the third place. His feat was particularly laudable as he was driving a stock car, and it was clear on the second day itself that it was struggling.
"I knew I had a huge disadvantage. But I pushed myself and my car to our limits today as I firmly believe that that's the only thing that counts, not where you finish," he said.
In the Autocross category for local talent, Babit Lyngdoh continued his good run to win the last two sprints on Monday to emerge champion.