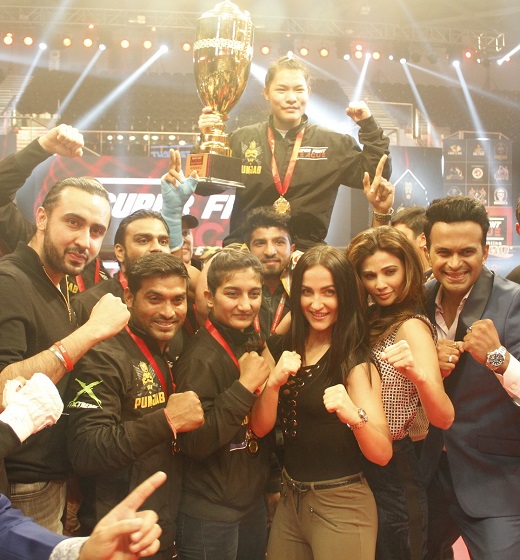 New Delhi: The inaugural season of Super Fight League (SFL), the world's first mixed martial league, held over six weeks saw Sher-e-Punjab crowned as Champions with a 14-12 win over Delhi Heroes. The star studded league had in attendance support from Delhi Heroes' owner Arjun Rampal along with the Bollywood actors Arbaaz Khan, Elli Avram and Daisy Shah. Multi-talented musician Raghav Sachar mesmerized the audience with a melodious performance at the closing ceremony of SFL.

Super Fight League enthralled audiences throughout the duration of the league with its raw combat action and unique point scoring system. The two finalists Delhi Heroes and Sher-e-Punjab showcased a thrilling encounter that was befitting of a final. Thousands of fans rallied for their favourite fighters at the ultimate match of Season 1.
After six weeks of intense action across 8 teams and 96 fighters, winning millions of hearts, the Super Fight League has finally come to an end. The fighters stood true to the Super Fight League motto 'Never Stop Fighting', which was displayed throughout the tournament with nail biting encounters and extreme rivalries.
Bill Dosanjh, CEO, Super Fight League on the culmination of the first ever MMA league said,"The inaugural season has ended on a high. We have seen raw talent evolve through the last 6 weeks in never seen contested bouts and new talent. The quality has been phenomenal and the level of support we have received has been overwhelming. I'm already looking forward to the next season where Super Fight League will be bigger, larger, stronger and will continue to inspire the motto 'Never Stop Fighting'."
Earlier on 24th February 2017, Bengaluru Tigers beat Goa Pirates in a battle for the third place 18-10 in the presence of team owner Tiger Shroff.