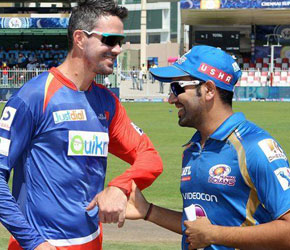 This is a clash between two teams who are virtually out of the tournament and are placed right at the bottom of the table. Mumbai Indians might have won a few in the last couple of weeks but that gives them little chance of making it to the playoffs. On the other hand Delhi Daredevils have had a tournament which they would like to forget and does not look in any hurry to give away the last spot in the table where they are sitting pretty at the moment by losing most of their matches.

Here is a look at the players to watch out for in the match between Delhi Daredevils and Mumbai Indians:

Delhi Daredevils

J P Duminy: Duminy by far has been their best player with the bat in hand in a season where most of their players have struggled to come up with the goods. Duminy have given their innings the late flourish which has helped the Daredevisl to get to a competitive score in most of their matches and is also a key exponent with the ball in hand. His off-spinners have come in more than handy for his team.
Kedhar Jadhav: Kedhar Jadhav also looks a player in good form and that he has been all throughout the domestic season where he has scored more than 1100 runs in the Ranji Trophy. Jadhav is a clean striker of the ball and can score pretty quickly when the moment comes which makes him an asset to his side.

Mohammad Shami: Mohammad Shami has to come to the party this time for his team as he has pretty off colour all throughout the tournament. His form with the ball in hand is crucial for Delhi as he can strike with the new ball and wickets are the only thing which De;hi Daredevils have struggled to pick up in this season.

Imran Tahir: Imran Tahir is a very good buy by the Delhi Daredevils as he is a very smart operator with the ball in hand. Tahir has been very successful in the shortest format of the game and has done a very good job for South Africa. Tahir has looked more than a capable bowler to pick up a wicket in this tournament and can turn the tables in his favour with his leg-spinners.

Mumbai Indians

Lendl Simmons: Lendl Simmons all of a sudden seems to have given Mumbai Indians an air of freshness as he keeps piling on the runs at the top of the order. He along with Hussey has given the Mumbai Indians a good start to the innings which has come a bit too late in the tournament but as they say it, better be late than never.

Rohit Sharma: Rohit Sharma is a class act with the bat in hand and has not quite being able to click with the bat in hand in this tournament which has added to their worries. But given his talent it is just a matter of time before Sharma gets his form back and once he does it is a treat to watch.

J J Bumrah: Bumrah has been quite effective with the ball in hand and bowls a heavy ball. He has an unusual action which can work in his favour and also gets the ball to come back in a long way. Bumrah can pick up early wickets with the ball in hand which can peg back the Kings XI Punjab.

Harbhajan Singh: With more than 400 Test wickets in his kitty Harbhajan Singh sure has the ability to win games for his side with the ball in hand. Singh has shown glimpses of his old form and is a wicket taker at any given point of the match.
photo:iplt20.com

By Sajal Kumar Patra
Indian Sports News Network