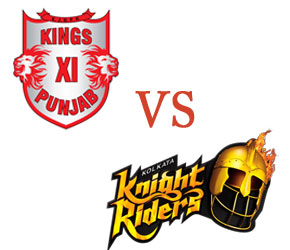 Two months of gruelling cricket and eventually we have found the two finalists for the seventh edition of the Indian Premier League. Kolkata Knight Riders have come back brilliantly in the tournament by winning eight matches in a row and seems to be on a role while Kings Eleven Punjan has been the team of the tournament by winning most of their matches and literally batted Chennai Super Kings out of the match in the second Qualifier at the Wankhede stadium, Mumbai.

Here is a look at the players to watch out for in the final which will be played between Kolkata Knight Riders and Kings Eleven Punjab:
Kolkata Knight Riders:

Gautam Gambhir: Gambhir has played an important role in Kolkata's turnaround in the tournament and looks a far better captain with runs under his belt. Gambhir would look to continue his good run with the bat which in turn will help KKR to get off to a flying start.

Robin Utthappa: Utthappa has come of age as a batsman and seems to have matured as a player in this year's Indian Premier League. He has been the player to watch out for Kolkata Knight Riders and has been instrumental in giving his team a great start. Uthappa has been rewarded with a spot in the Indian cricket team which in turn will do a world of good to his confidence.

Sunil Narine: Narine is by far the best spinner in the history of IPL and this year has not been any different as he keeps picking up wickets for his team and also stops the flow of runs. Narine's form can be crucial for KKR as it gives them the penetrative power in the bowling lineup.

Morne Morkel: Morkel with lead the attack with the new ball and his experience with the new ball will come in handy for the Knight Riders. Morkel can extract that extra bounce from the wicket which can make things pretty uncomfortable for the Punjab openers.

Kings XI Punjab:

Virender Sehwag: Virender Sehwag's wait for that one big score has come to an end and Chennai Super Kings have paid the price for it. Sehwag in this type of form will mean game set and match for Kings Eleven Punjab. It is imperative for the Knight Riders to see his back early in the match.

Manan Vohra: Vohra is one of the most talented players in the country and he has shown every one why he is one of the emerging players to watch out for. Vohra's form with the bat has also been pretty good as he just like Sehwag has got off to a start but has failed to transform that into a big one. With the kind of ability he has it is just a matter of time before he gets his act together and gets that big score we all have been waiting for Kings Xi Punjab.

Mitchel Johnson: Johnson can rattle any batsmen with his pace and when he gets it to swing with that pace it becomes almost unplayable making life difficult for the batters. Johnson has been expensive with the ball in hand so far in the tournament but a bowler like him will always be dangerous for any side as he can literally run through a side before even they can realise it.

Karanveer Singh: Karanveer Singh has made full use of the opportunities that has been presented to him and looks to be a much more confident bowler. He can spin the ball and also has this knack of picking up wickets in the middle overs. All in all a very good bowler to pick in the final as a leg-spinner is always an attacking option.
By Sajal Kumar Patra
Indian Sports News Network