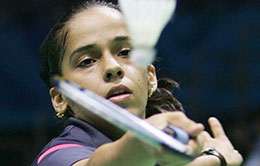 It was a decade ago when Saina Nehwal burst into the international scene after she won the Philippines Open in 2006. She proved her mettle once again by winning the Asian Satellite Badminton Tournament (India chapter), which was her second satellite triumph in as many years and she never looked back thereafter.
She went on to win many tournaments, including the bronze medal the 2012 London Olympics. Saina, who was ranked 84th in the world during the Philippines Open in 2006, has been in the top 10 since years. She even became the first Indian woman shuttler to reach the World No.1 on April 2 last year, following her title win at the India Open. She won a silver at the World Championship in August 2015 in Jakarta, Indonesia.

She also reached the finals of the China Open Super Series Premier in November but a nagging ankle injury saw her miss a series of events before making a comeback at the India Open.

She registered a series of semifinal finishes at the India Open, Malaysia Open, Badminton Asia Championships. She also won a bronze, her second in the Asian Championships. In June, she reached the quarters at the Indonesia Open Superseries Premier.

On Sunday, she went on to win the Australian Open Super Series Badminton title, which will surely give a boost to her Olympic campaign scheduled to start in August.

Meanwhile, her achievements and growth in stature has seen her become the highest paid sportsperson (non-cricket) in the country.

Let us discuss few of the qualities of Saina that has made her the 'Badminton Queen' of India.

Focus: Her ability to maintain her focus is what made her so successful. She has been out of the game many times due to injuries. However, as soon as she steps on to the court, she means business. After recovering from her ankle injury, she registered semifinal finishes in India Open, Malaysia Open, Badminton Asia Championship, before winning the Australian Open Badminton Series, which speaks volumes about her focus on the target.

Big match attitude: Saina has the ability to raise her game in big events. She announced her arrival at the international badminton arena back in 2006 Commonwealth Games, Melbourne where she won the bronze medal. But world actually got to know about her real potential when she made it to the fourth round of her first Olympics held in Beijing. And after that, there was nothing that could stop her and she went on win many international tournaments, including 2008 Chinese Taipei Open Grand Prix Gold, 2008 BWF World Junior Championships 2010 Commonwealth Games, 2011 Swiss Open Grand Prix Gold, Denmark Open 2012, London Olympics 2012, amongst others.

Consistency: Saina has been very consistent in her career after she started her escalation. She has been in the top 10 for quite some time and the way she has maintained her rankings is praiseworthy. Saina is one of the few non-Chinese players to be so consistent in world badminton. Even in Olympics, it was three Chinese and Saina in the semis. She has lost on occasions to them, but then she is only player who has been able to decipher the Chinese code and pose a threat to them.

Fierce competitor: Anyone who knows her will know her approach towards the game. She is very headstrong and often does exert pressure on her in order to succeed. At times it does prove detrimental to her, but then ability to counter the pressure makes her so successful.
In the nation dominated by sport like cricket, Saina has carved out a niche for herself. She also went up to number two position on the World Rankings chart and poses threat to every shuttler she faces.