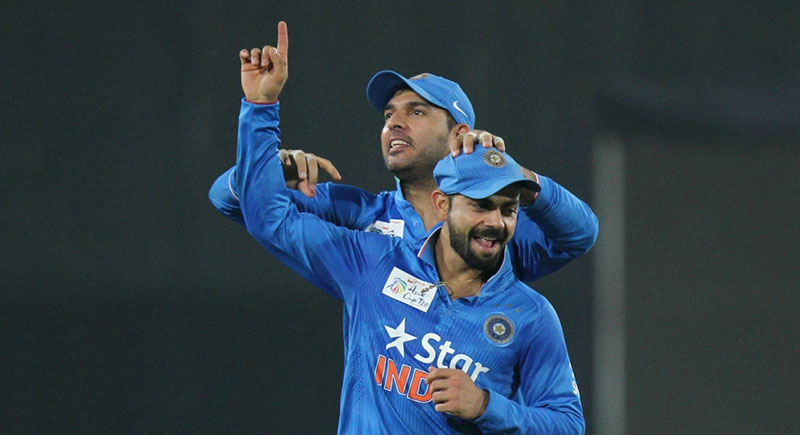 Rajesh Chauhan played for India as an off-spinner and was part of the highly effective trio comprising Anil Kumble, Venkatapathy Raju and Chauhan himself. This was the trio that helped India trounce England 3-0 in the test series in 1993 and was chiefly instrumental in helping Indian team to remain unbeaten at home for a decade. But if you ask Chauhan his golden moment, he will most probably mention a last-over six off Saqlain Mushtaq in Karachi in 1997. Requiring 8 runs with 2 wickets in hand and Robin Singh at the other end, Chauhan connected the full toss from Saqlain and it landed in stands over mid wicket. Indian fans finally could talk about an answer to heart-breaking last-ball six by Javed Miandad off Chetan Sharma in Sharjah almost a decade earlier in 1986. That six had dented the psyche of an entire nation and it took a decade or so for Indian cricketers to turn the tables on the arch rivals across the border.
India-Pakistan encounters make heroes out of the ordinary and Gods out of the extraordinary. There are innumerable moments any fan can recount from the epic clashes and none more memorable than Sachin Tendulkar hitting Shoiab Akhtar for the maximum in the 2003 World Cup. It was a stroke of genius and the shot that changed the mood from one of concern to one of confidence.
Shoaib Akthar had once ordered silence at Eden Gardens when he bowled two consecutive unplayable reverse swinging deliveries to send back a set Rahul Dravid and then the master himself, Sachin Tendulkar. Ask him about that spell and his eyes will light up! Shoaib confessed that Dravid seemed intimidating to him. He batted like Mohd Ali – take the punches, wear you down and finally knock you out. Dravid though was knocked out by Wasim Akram in that wonderful display of swing bowling as he had his off stump clipped by a delivery that started well outside the leg stump. If it got through the wall, others had no chance.
Eden Gardens was silenced but a few years earlier in 1996 World Cup quarterfinal the crowd had gone berserk as Ajay Jadeja played an innings straight out of every Indian fan's fantasy. He hammered Waqar Younis all over the park to take India to a challenging score of 287. This was also the match where Javed Miandad was unfortunately booed off the ground in his last match in India.
Chennai crowd gave a standing ovation to Pakistan team as they went for a victory lap after the 1999 test match. It was a match that we remember with mixed emotions. Sachin Tendulkar put on display perhaps the greatest of his shows playing through pain to a stage where he could not stand straight, scored 136 and yet ended on the losing side with India falling short by less than 20 runs. He did not come out to receive the man of the match award which speaks for the mental agony the great man would have gone through along with the unbearable physical discomfort.
Anil Kumble probably took that Chennai defeat rather seriously and decided to write his own script in the next match at Feroz Shah Kotla stadium in Delhi when he became only the second bowler in the history of the sport to take 10 wickets in an innings.
Talking of discomfort, Virendra Sehwag took that feeling to another level for Pakistan when he decimated their bowlers as he plundered 309 runs in Multan in 2004. He can be forgiven for all his recent comments as he is the one who you cannot argue with in terms of performance. It was Sehwag who sent the Pakistani attack on a leather hunt at the start of the Indian innings in the World Cup semi-final in 2011.
Total annihilation is also something that can be associated with Saeed Anwar's unforgettable 194 off 146 against the likes of Kumble in Chennai in 1997. As a viewer, it was probably the only time I felt we were playing the wrong sport. One could argue that he had a runner for a major part of his stay at the wicket but then all those runs came of his magic-wand-like bat.
There are innumerable moments etched in the memory of people both from India and Pakistan with the recent ICC Champions Trophy final going Pakistan's way. Whatever the history between the two neighbours, the fact is cricket joins us. Imran Khan sought support from Indian fans when he led his team in the final of the 1992 World Cup against England and we silently admired the craft of Wasim Akram as he produced a spell of sheer magic to shatter the stumps of Allan Lamb and Chris Lewis and along with them England's hope. As children growing up in 90's, we often fantasized of a combined India-Pakistan team, the unbeatable collection of genius with Tendulkar and Akram on the same side. It will never happen but then it is always better to be on the same page than be