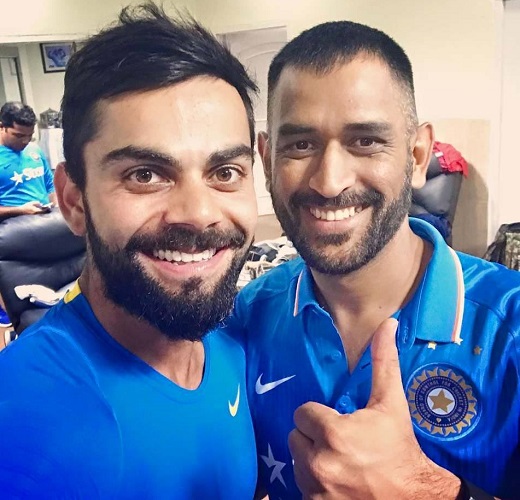 By Kaushal Kowjalgi
As MS Dhoni stepped down the captaincy from all the 3 formats, the question that now arises is Virat Kohli a better captain than Mahendra Singh Dhoni?
It's too early to judge Virat Kohli as a full time captain of team India. But his unbeatable record in 2016 is what makes fans think this way.
When MS Dhoni was given the test captaincy in 2008, he also started his test captaincy career in the same way. He too was unbeatable.
Virat Kohli and MS Dhoni are different in their characters, Kohli is an aggressive captain and he loves to express himself on the field. But Dhoni is a cool customer; he is very cool and calm under pressure. That's why he was called as 'Captain Cool'.
Also Read: Virat Kohli, the successful run chaser: Kohli's top five ODI innings while chasing
In 10 years of MS Dhoni's captaincy career. He has gone through many ups and downs. Especially his performances on overseas tour are the worst part of his captaincy. Team losing to England, Australia, South Africa and New Zealand hurts India a lot.
But Virat Kohli had a good success in Sri Lanka in 2015. Kohli won the series in Sri Lanka after 21 years. India were down and out in the first test. Rangana Herath bowled an amazing spell that put the hosts to a brilliant win over India. In the 2nd and 3rd tests, the visitors came back strongly to win the series on the Lankan soil. This win was Virat Kohli's first series win as a captain.
This is where Virat Kohli can improve the record as an Indian captain. He should win more match abroad as he wins at home.
In Dhoni's long captaincy career, he was criticised more for not winning series aboard. On overseas tours, Dhoni has captained India in 30 matches. In that he could only win six games. He lost 15 of them and nine matches were drawn. The majority of losses came in England, Australia, South Africa and New Zealand. From 2009 till his last captaincy in Australia in the Melbourne test. Dhoni could win only one overseas series, which was against New Zealand in 2009.
With captaincy fault on overseas tour, Dhoni also failed to score a hundred abroad. He has no hundreds in India's overseas tours. Here, Virat Kohli is a better player than Dhoni. Except for England, Virat Kohli has scored runs everywhere. He had hit two centuries on his captaincy debut against Australia. He scored 119 runs in the first innings and 147 runs in the second innings at Adelaide. He was the first and youngest captain of India to achieve that feat.
Virat Kohli has scored more runs away from home. In 28 matches, Kohli has scored 2,186 runs at an average of 44.61 with 9 hundreds and 5 fifties. If we compare these records with Dhoni, one should say that MS Dhoni has a pretty ordinary record away from home.
Dhoni started his test captaincy career at home. But Virat Kohli started his captaincy career abroad, in Australia. This the main difference between these two.
But the thing is, Dhoni was tested in England, Australia, South Africa and New Zealand. Virat Kohli has not been tested here till now. It would be very interesting to see how Kohli will play as a skipper and as a player. It won't be easy to beat these teams in their own den. India have never won a series in Australia and South Africa. India have won a test series in England under Rahul Dravid in 2007 and in New Zealand under MS Dhoni in 2009.
As captain Dhoni has scored 5 test hundreds and one double hundred. But Kohli has scored 8 hundreds and 2 double hundreds.
Dhoni has scored 3454 runs in 60 matches as captain. Kohli has played only 22 test matches and has scored 2111 runs. He is the first and only Indian captain to score two or more double hundreds. His 235 against England at Mumbai is the highest score by an Indian Captain in test. Kohli is also a first test captain to hit 3 centuries in his first 3 innings.
Records will tumble as Kohli will play. He has a better record than Dhoni in test cricket
In One Day Internationals Kohli just have captained 20 games, he has won 16 of them and lost 4 matches. In those 20 matches, he has scored 1035 runs at an average of 69 with 5 hundreds and 4 fifties.
Dhoni had long ODI captaincy career. In 199 matches, he has scored 6633 at an average of 52.82 with 6 hundreds and 47 fifties. Out of the 199 matches, India have won 110 and lost 74 matches.
Dhoni has captained 72 matches and won 42 of them.
It very early to compare Dhoni with Kohli, Kohli is still young as a captain. And as Dhoni said he can break all his captaincy records. Kohli has the hunger and passion to win games for India. He thinks only about win.