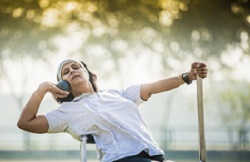 RIO DE JANEIRO: Deepa Malik, a 45-year-old wheelchair bound athlete from Gurgaon, made history when she became the first Indian women to win a medal at the Paralympics. Her throw of 4.61 m won her a silver in the shot put F-53 event. It may not have come in gymnastics but it was still a Produnova (artistic gymnastics vault) in its own right.
Deepa's silver extended India's tally at the Rio Paralympics to three medals. Bahrain's Fatema Nidham won the gold medal with a best throw of 4.76 m, while Dimitra Korokida of Greece bagged bronze with a throw of 4.28 m.
"I want to use this medal to support women with disabilities in India. This journey has been wonderful for me and my entire family. I am proud to be the oldest athlete in the team and win a medal," Deepa was quoted saying immediately after she won the medal.
"I don't know whether she was confident of winning a medal but she gave performance of her life," daughter Devika told media after the news came in, adding, "I haven't spoken to her after the event, but we had seen her work hard for the Games and we are happy that her hard work resulted in a medal".
The silver medal will be the icing on the cake of Deepa, also the first Indian women to participate at the Paralympics, but it comes on the back of a dazzling array of swimming and javelin efforts for the paraplegic, who has been paralyzed from the waist down after a spinal tumour in 1999, followed by three surgeries and 183 stitches, made walking impossible.
A former Rajasthan state women's cricketer, Deepa's first love remains biking. Deepa Malik once claimed she had gotten married at 20 because her husband supported her love for bikes. Despite her current condition, she became the first paraplegic woman in the world to ride a quad bike across nine high-altitude passes in nine days on Ladakh's motorable roads.
In 2008, Deepa created another record when she swam the Yamuna for a Kilometer upstream. Four years later, she was awarded the Arjuna Award for her swimming performances. In all, she has 17 international medals, 58 National gold medals. She even holds the Asian record in javelin throw and also has World Championship silver medals in shot put and discuss throw in 2011.
Today, a mother of two and wife of an army officer , Deepa is a vocal spokesperson for paraplegic rights in the country with her 'Ability Beyond Disability' movement.