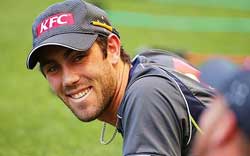 World champion Australia has retained its number-one ranking on the MRF Tyres ICC ODI Team Rankings following its 58 runs victory over the West Indies in the final of the tri-series in Barbados on Sunday, but South Africa has dropped behind India in fourth place after it failed to reach the final.
Australia had started the series on 124 points and has finished on 123 points, to lead second-ranked New Zealand by 10 points. However, South Africa's three loses and one no-result has meant it has dropped two points to join India on 110 points, but behind Mahendra Singh Dhoni's side when the points are calculated beyond the decimal point.
The biggest gainer from the tri-series is the West Indies, which has retained its seventh ranking but more importantly it has gained six points to open up a seven-point advantage over eighth-ranked Pakistan. If this is read in the context that England plus seven highest-ranked sides on the MRF Tyres ICC ODI Team Rankings as on 30 September 2017 will qualify directly for the ICC Cricket World Cup 2019, then this is a significant improvement.
Sri Lanka and England, which are in the midst of their ODI series, have also swapped places after three matches with England moving ahead of Sri Lanka. The first game had ended in a thrilling tie, England won the second match by 10 wickets, while the third was abandoned due to rain. The final two matches of the series will be played on 29 June and 2 July, which means England has an opportunity to strengthen its fifth position while Sri Lanka has a chance to regain its fifth spot.
MRF Tyres ICC ODI Team Rankings (after the conclusion of the tri-series, and third ODI between England and Sri Lanka)
Rank Team Points
1 Australia 123 (-1)
2 New Zealand 113
3 India 110
4 South Africa 110 (-2)
5 England 104 (+1)
6 Sri Lanka 104 (-)
7 Bangladesh 98
8 West Indies 94 (+6)
9 Pakistan 87
10 Afghanistan 51
11 Zimbabwe 46
12 Ireland 41