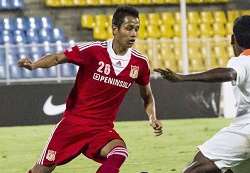 New Delhi: Ahead of the Hero Indian Super League 2016, the NorthEast United FC has added an important player to its roster in the form of the prodigal Fanai Lalrempuia. After winning I-league Under-19 twice in 2012 and 2013, Lalrempuia has garnered the acclaim and accolades of critics and fans alike. Besides his eye-catching stints in the I-League and the ISL, Lalrempuia also has a call-up for the Indian U19 team during the qualifiers of AFC U-19 Championship in 2014.
Born in Lunglei, Mizoram is set to return home and contribute in NEUFC's push for honors this season with his ball control, accurate passing and agility.

Expressing his joy at the latest development, John Abraham, Owner, NEUFC opined, "We are delighted to welcome Fanai Lalrempuia back home. He is undoubtedly a talent and we hope that he uses the platform of NorthEast United FC to exhibit his skills."

Further commenting on the appointment, Ardeshir Jeejeebhoy, Director of Football, NEUFC said, "Fanai is one of the most technically skilled players in his category. He is a rare breed who has tons of potential in his locker. He is quick, agile, a good passer of the ball and knows how to put in a tackle. We are looking forward to him putting in his utmost dedication because we know that on his day, he can make a difference on the pitch."

NEUFC is close to completing its roster of domestic players for this season. After roping in Sergio Farias as the Head Coach, the football club went on to sign Jerry and Zuala, two of the country's most prominent footballing talents. Thereafter, successfully signing Katsumi Yusa, Rowlin Borges, Subrata Paul, Nirmal Chettri and now Fanai Lalrempuia, the club will be looking to better its standing in the league table and give its passionate fans lots to cheer about.