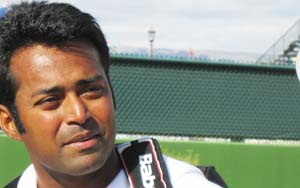 New Delhi: The All India Tennis Association (AITA) on Saturday turned down Rohan Bopanna's choice to partner Saketh Myneni for the Rio Olympics and paired him with Leander Paes for the men's doubles event at the mega event scheduled in August. This will be Leander's record seventh appearance in Olympics.
Meanwhile, Bopanna and world no. 1 Sania Mirza were paired for the mixed doubles while Sania will partner youngster Prarthana Thombare, India'a second highest ranked player at 205, in the women's doubles.

Bopanna in his statement said that he respected AITA's decision and looked forward to participating in Rio with Paes. He, however, also released the statement that he had sent to AITA where he had urged the tennis federation to pair him with Saketh Myeni, saying he had chosen Saketh based on a careful weighing of whose game will complement his at Rio, given his own skills, strengths and weaknesses.

"I have chosen Saketh based on a careful weighing of whose game will complement mine at Rio, given my own skills, strengths and weaknesses. As you will see from my track record, I have consistently had success with partners who have big weapons, a serve, a forehand. In that sense, the ranking of the player in doubles is far less important than what he brings to the partnership. I have played with over 70 partners in my career and that has given me the ability to gauge what type of player works well with me and what doesn't," he had said.

"I have much admiration for Leander Paes and his many achievements, but unfortunately we have not been able to put together a good combination despite our best efforts and I do not believe our styles of play are either compatible or complementary. Considering that this is a team event where two individuals need to gel together to do well, regardless of individual achievements, it is the team and the combination that matters," his statement read.
Meanwhile, Paes said that the honour to represent India at Rio Olympics 2016 is a dream come true. "I am thankful to the All India Tennis Association for bestowing me this opportunity to wear the Tri-colours on my heart once again. To play for the flag has always been the greatest inspiration for me. I am humbled by the love showered upon me by the people. Their overwhelming and unconditional support has been my pillar of strength and motivation throughout my areer."
Paes in Davis Cup squad

Leander Paes was named in the seven-member squad for the upcoming Davis Cup tie in Chadigarh against South Korea from July 15 to 17. Paes was a last minute entry but the final team for the tie will be announced on July 5.