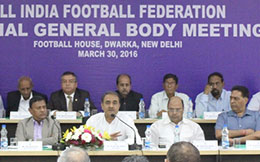 NEW DELHI: Mr. Praful Patel, President, All India Football Federation Chaired AIFF's Special General Body Meeting which was held at Football House, the AIFF Headquarters, New Delhi on Thursday (March 30, 2016).

Besides Mr. Patel, AIFF General Secretary Mr. Kushal Das, Vice-Presidents Mr. Subrata Dutta, Mr. Subhash Chopra, Mr. Larsing Ming, Treasurer Mr. ZA Thakur, AIFF Executive Committee Members and members from 26 Member Associations (among the 34 Member Associations) also attended the Meeting, as did the two affiliated units – SSCB and RSPB.
The Committee unanimously approved the Financial Statement and Audit Report for 2014/15 which was adopted into the Accounts of the AIFF.

Speaking on the occasion, the AIFF President mentioned about the challenges which lie ahead.

"There are challenges which we will face but we have definitely moved ahead. We are a large Country with our own unique proposition but the AIFF over the years have always tried to strike a balance to give due representation, due regards to different regions and that's why we have gone step by step," Mr. Patel stated.

"Only the other day, the Prime Minister of our Country highlighted the FIFA U-17 World Cup as a major milestone for transforming Football in India. It's so encouraging that the Government at the highest level also recognizes the potential of the sport," he added.

Mr. Patel also made a mention about the potential of Women's Football in India. "More emphasis is being paid on Women's Football in India. AIFF will leave no stone unturned for providing support for us to qualify for the AFC Women's Asian Cup.

"We had talks about a Women's League and we shall kick-off the Women's League sometime this year itself," he informed.

Mr. Patel also requested the State Associations to "concentrate on development of the sport," urging all stakeholders to come on the same platform.

Meanwhile, Mizoram FA has been allotted an Artificial Turf under the FIFA Development Programme.
AIFF Media