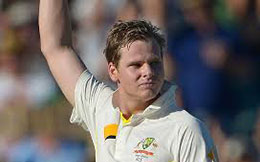 Australia captain Steve Smith and New Zealand's Kane Williamson will resume their battle for the number-one position on the MRF Tyres ICC Test Rankings for Test Batsmen. Smith leads Williamson by 10 points after leapfrogging the New Zealander following the Boxing Day Test against the West Indies.

Fifth-ranked David Warner is the other batsman inside the top five who will be aiming to break into the top three. The left-handed opener trails fourth-ranked Hashim Amla by six points while the duo of Williamson and Joe Root are 35 points ahead.
Adam Voges of Australia is also inside the top 10 and shares 10th position with India's Ajinkya Rahane, with Pakistan captain Misbah-ul-Haq 11 points ahead.
New Zealand captain Brendon McCullum will enter in his farewell Test in 19th position among batsmen and will aim to finish solidly inside the top 20. McCullum is 20 points behind India's 16th-ranked Murali Vijay. McCullum has been inside the top 20 since December 2013, while he achieved his career-high 12th rankings in December 2014 against Sri Lanka in Christchurch.
In the MRF Tyres ICC Player Rankings for Test Bowlers, Trent Boult of New Zealand will start as the highest-ranked bowler from either side in seventh position, leading Josh Hazlewood of Australia by 46 points. New Zealand's Tim Southee is ninth, 10 points behind Hazlewood.

Other high ranking bowlers to feature in the series include Nathan Lyon (14th), Peter Siddle (15th), James Pattinson (21st), Neil Wagner (22nd) and Doug Bracewell (34th).

Stuart Broad is the number-one ranked bowler, followed by Ravichandran Ashwin of India and Pakistan's Yasir Shah.
MRF Tyres ICC Test Player Rankings

Batsmen (top 10)

Rank Player Team Pts Ave HS Rating
1 Steve Smith Aus 899 57.90 936 v Eng at Lord's 2015
2= Kane Williamson NZ 889 49.93 893 v Aus at Perth 2015
Joe Root Eng 889 54.93 917 v Aus at Trent Bridge 2015
4 Hashim Amla SA 860 51.45 907 v Pak at Abu Dhabi 2013
5 David Warner Aus 854 51.34 880 v NZ at Perth 2015
6 Younus Khan Pak 826 53.94 880 v SL at Lahore 2009
7 AB de Villiers SA 818 50.46 935 v Aus at Port Elizabeth 2014
8 Angelo Mathews SL 808 50.18 877 v NZ at Christchurch 2014
9 Misbah-ul-Haq Pak 764 48.89 842 v NZ at Abu Dhabi 2014
10 Ajinkya Rahane Ind 753! 44.97 753 v SA at Delhi 2015

Bowlers (top 10)

Rank Player Team Pts Avge Econ HS Rating
1 Stuart Broad Eng 872 28.66 880 v SA at Johannesburg 2016
2 R. Ashwin Ind 871! 25.39 871 v SA at Delhi 2015
3 Yasir Shah Pak 846*! 24.17 846 v Eng at Sharjah 2015
4 Dale Steyn SA 841 22.53 909 v WI at Centurion 2014
5 James Anderson Eng 805 29.18 847 v WI at Barbados 2015
6 Ravindra Jadeja Ind 789*! 23.76 789 v SA at Delhi 2015
7 Trent Boult NZ 787 28.28 825 v Eng at Lord's 2015
8 Josh Hazlewood Aus 741* 24.54 792 v WI at Hobart 2015
9 Tim Southee NZ 731 31.47 799 v WI at Jamaica 2014
10 Morne Morkel SA 724 29.33 776 v Aus at Cape Town 2011