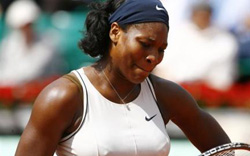 Serena Williams has been named the 2015 SI Sportsperson of the Year, becoming the first active tennis player since Chris Evert in 1976 to earn the distinction. The annual award honors the athlete, team coach, or individual who, by virtue of performance and character on and off the field, transcended the year in sports.
Serena is the first active female athlete to win the award since the World Cup-winning US Women's National Team in 1999. She is the fourth tennis player to win the award. Billie Jean King was the first female winner in 1972, followed by Evert in 1976. Arthur Ashe was named Sportsman of the Year in 1994 for his post-career humanitarian efforts.
Serena undoubtedly shined her brightest under the Slam spotlight in 2015 but she also added two more WTA titles to her career title haul, winning a record eighth title at the Miami Open and successfully defending her title at the Western & Southern Open in Cincinnati, Ohio. But the moment that brought the most goosebumps came in the California desert, when Serena walked onto Stadium Court at the BNP Paribas Open for the first time since 2001. The standing ovation and outpouring from fans moved her to tears and her words of forgiveness and reconciliation rang true.