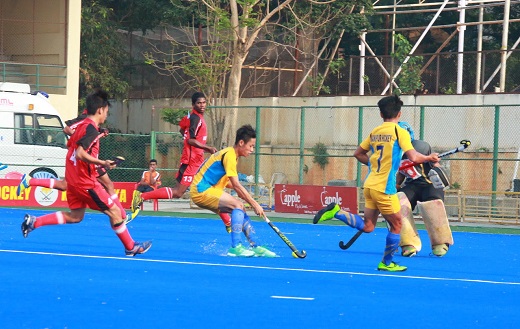 Bengaluru: With the first week at the Hockey India 7th Sub Junior National Hockey Championship 2017 (Men) A Division coming to a close, the tournament played the final round of pool games today.
In the opener, Hockey Chandigarh beat Hockey Bhopal 12-2. Sanjay was the star of the show for Hockey Chandigarh scoring five superb goals (11', 28', 29', 43', 56') in their victory. Arshdeep Singh also got a brace (54', 69') for Hockey Chandigarh. Sameer Ahmed scored a brace (19', 37') for Hockey Bhopal in the match.
In Pool C, Hockey Patiala beat Hockey Maharashtra 4-1. Goals for Hockey Patiala were scored by Manpreet Singh (4', 57'), Bablu Singh (58') and Rohit Rana (61'). Hockey Maharashtra's solitary goal was scored by Aamid Khan Pathan in the 10th minute.
Manipur Hockey and Hockey Bihar drew 2-2 in an entertaining Pool B encounter. Manipur Hockey took the lead in the 26th minute, after Ibungo Singh Konjengbam converted a penalty stroke. They took the lead into half time. In the second half, Hockey Bihar levelled in the 42nd minute, Vaibhav Mishra drawing them level. Amarjit Singh Waribam gave Manipur Hockey the lead again in the 55th minute, with a well taken goal. Hockey Bihar wouldn't go away though, scoring in the 66th minute, via Martin Tuti to split the points.
Uttar Pradesh Hockey beat Hockey Unit of Tamil Nadu 10-0 in their Pool B encounter. In a display of energetic, attacking hockey, Uttar Pradesh Hockey earned a well-deserved victory, backed on superb goal scoring performances by Uttam Singh (22', 47', 70'), Akhtar Ali (35', 41') and Sahabaz Khan (16', 69').
Hockey Jharkhand beat Chhattisgarh Hockey 5-0 in their Pool D encounter. Hockey Jharkhand started the scoring early, Ranjan Toppo giving them the lead in the 7th minute. From there on, they were in cruise control, constantly probing and hassling Chhattisgarh Hockey's defence. They added more goals to the board, Anurud Bhengra grabbing a brace (42', 45') as Denis Kerketta (43') and Joseph Kongari (59') also put their name on the scoresheet to finish their pool matches in style.