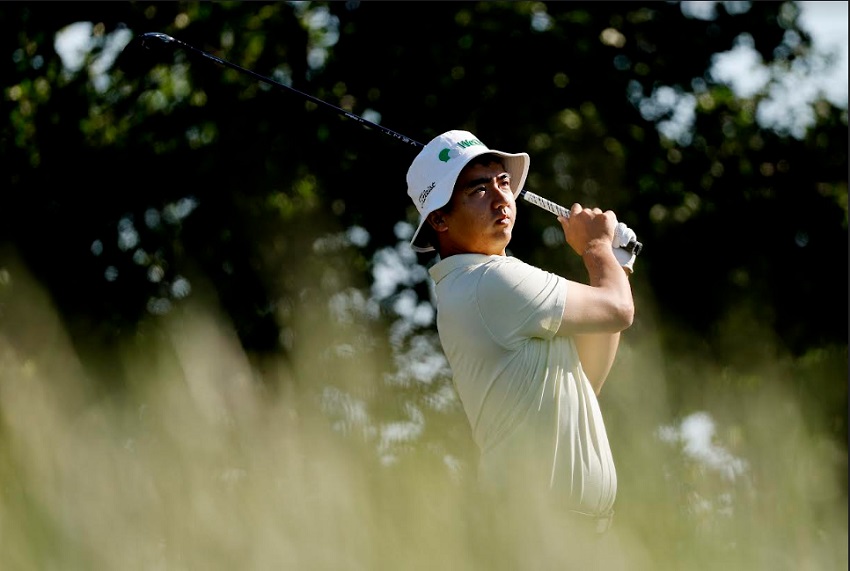 China's Marty Zecheng Dou put himself on the threshold of an historic victory on the PGA TOUR after firing a bogey-free 7-under 64 to share the third round lead at the AT&T Byron Nelson with Austin Eckroat and Ryan Palmer on Saturday.
The 26-year-old Dou, who started using the AimPoint technique to read the putting greens recently, wielded a hot putter as he made seven birdies at TPC Craig Ranch, his adopted home course, including four over the last six holes to earn his first career 54-hole lead/co-lead.
The best finish by a mainland Chinese golfer on the PGA TOUR was a solo third place by Haotong Li at the 2017 Open Championship while Dou's tied 17th at the Butterfield Bermuda Championship last year currently stands as his career best result to date.
"I don't want think about it, but it's going to be big for sure," said Dou when asked what the impact of a victory would mean for golf in China. "There is a whole lot more golf to play, so I'm in good in the position like this, creating more chances, and that's all I'm thinking."
He started the week ranked 169th on the FedExCup points list after missing eight cuts from 17 starts this season but his game has clicked this week despite lacking in confidence. He lives just a seven-minute drive away from TPC Craig Ranch and has used his familiarity to great effect, scrambling to save pars on six occasion on Saturday and was ranked first for Strokes Gained: Putting where he gained 3.74 strokes over the field.
"Played really solid. Hit really good drives. Left myself more opportunities than yesterday and rolled a couple, and once in a while you make one. That's how confidence is gained. I kept that going into the back nine and played really well," said Dou, who is enjoying his second season on TOUR after his debut in 2018.
Dou was particularly delighted with several long birdie conversions, including a couple of 20-footers on the second and 13th holes and another 28-foot birdie putt on the 16th hole. The young Chinese, who is a three-time winner on the Korn Ferry Tour, and is ready for a dog fight on Sunday against Eckroat, who is chasing a first win as well, and four-time winner Ryan, where they share the lead on 16-under 197.
Vincent Norman (65), Jason Day (66), Si Woo Kim (68) and overnight co-leader Scottie Scheffler (71) share fourth place on 199, two strokes back.
"I think nerves is the same thing as me playing on the Korn Ferry Tour. Everybody gets in the lead and you get into it and you're going to be nervous no matter what. It's like I won't be more nervous just because this is the PGA TOUR. I think it's the same thing. Trying to get adjusted the same way as I did on the Korn Ferry, and hopefully I can do good out of that," said Dou.
"I know I'm playing pretty good. I don't want to like have to know who's in the lead, how much back I am to get in my head, and mess up shots. But I do think about it. It just couldn't go away because I'm not in this position that often, so hopefully it happens more through the future.
"The swing has been on and off this year, and this week just kind of everything went really good. I think that could be something, because this is my home course and knowing the fairways and knowing the mistakes that left and right is and off the tee, like I had more confidence hitting that shot. Actually helps my swing to perform," added Dou, who won the PGA TOUR Series China Order of Merit in 2016 following four victories when he was 19.
Palmer, who is 20 years older than Dou, is seeking his first win since 2019 and hung on to his overnight co-lead with three birdies over his closing five holes after making bogeys on Hole Nos. 10 and 12. "It's hard to win, and I'll tell you what, winning that first one, you never know if it will ever come. I don't know if I'll ever win again. It's so hard to win. But I've loved my experiences I've had when I've been in this position. I've played well. I may not have won a handful of times when I finished second, but I've been there quite often and I've played well on Sunday, just haven't gotten over that winner's hump. I'm excited. It'll be fun getting to know those guys a little bit and show them what the old guy can do."