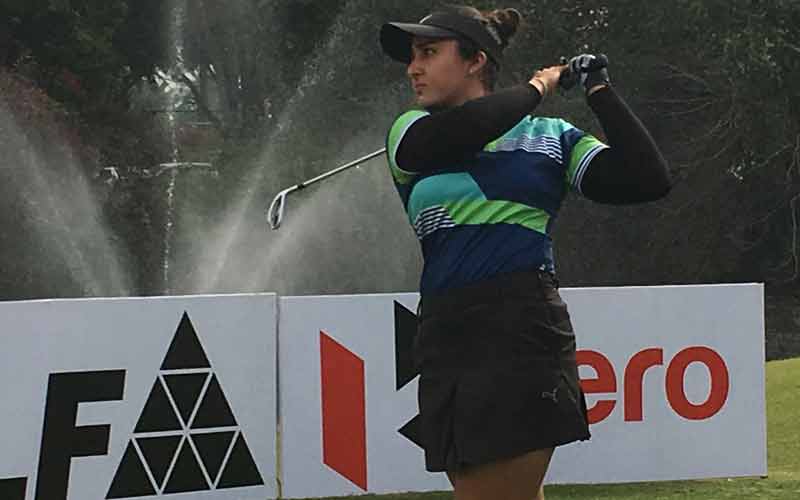 Kolkata: Barring Gaurika Bishnoi, most other leading Indian players will be in attendance at the season-ending Rs.10 lakh 15thLeg of the Hero Women's Pro Golf Tour, which will tee off at the historic Royal Calcutta Golf Club on Wednesday.
Last week's winner Ridhima DIlawari will go for a whopping fifth success this season, a feat not accomplished since Vani Kapoor registered seven wins in 2016. She will be challenged, however, by Diksha Dagar, winner on the Ladies European Tour, in-form Tvesa Malik and the experienced Vani Kapoor among others.
The event will miss Hero Order of Merit leader Gaurika Bishnoi, who has skipped the event on account of medical reasons. She has however made certain of the Order of Merit honours as she is almost Rs.2 lakhs clear of the second placed Amandeep Drall and the winner's cheque this week will be Rs.1,40,000.
The final event of the season has 26 professionals and one amateur, Pranavi Urs, who next year could be expected to turn professional.
The event also sees an international flavor with the entry of Thai duo Numa Gulyanamitta and P Supakchaya.
In the current season the first 14 events have been won by seven players, with Ridhima Dilawari accounting for four wins and Tvesa winning three times. The only other player to win more than once has been Gaurika Bishnoi, who has also had a very consistent season with a string of Top-3 finishes. Amandeep Drall, Neha Tripathi, Gursimar Badwal and Gauri Karhade have been the other winners this year.
The Money list is headed by Gaurika Bishnoi who has amassed Rs.11,84,100, while the second placed Amandeep Drall has won Rs. 9,85,933. Ridhima Dilawari, who has won four times in 11 starts, is lying third with Rs.9,69,433.
Tee times for Round 1 of the 15thLeg of the Hero Women's Pro Golf Tour:
8:30 AM : Vani Kapoor; Anisha Agarwalla; Diksha Dagar;
8:40 AM : Vandana Agarwal; Gurjot Badwal; Suchitra Ramesh;
8:50 AM : Amandeep Drall; Ishvari Prasanna; Anousha Tripathi;
9:00 AM : Shriya Vivek; Ridhima Dilawari; Supakchaya P;
9:10 AM : Saaniya Sharma; Jyotsana Singh; Neha Tripathi;
9:20 AM : Khushi Khanijau; Astha Madan; Smriti Mehra;
9:30 AM : Gauri Karhade; Tavleen Batra; Pranavi Urs (A);
9:40 AM : Gursimar Badwal; Tvesa Malik; Marshneil Prasad;
9:50 AM : Siddhi Kapoor; Numa Gulyanamitta; Ananya Data