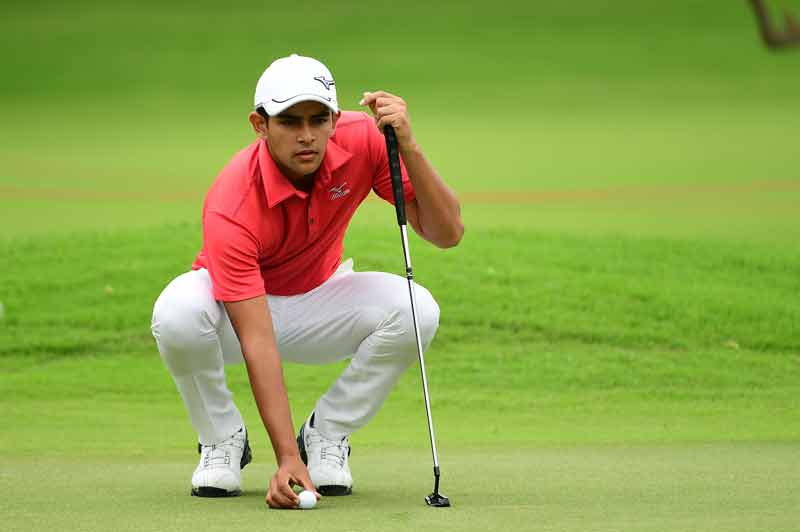 Nuh, Haryana: India's Rashid Khan notched a joint runner-up finish at the inaugural Classic Golf & Country Club International Championship that helped him secure his Asian Tour card for the 2020 season.
The 28-year-old Rashid, who was looking for a third Asian Tour title at the US$300,000 Asian Tour and TATA Steel PGTI joint-sanctioned event at the Classic Golf & Country Club (CG&CC) on Sunday, fired a three-under-69 in the fourth and final round and thus had to settle for tied second place at 19-under-269, two shots behind champion Rory Hie of Indonesia.
Khan, who shared the second spot with Korean Byungjun Kim, climbed from 38th to 22nd place in the Asian Tour money list as a result of his impressive finish.
Teenaged rookie Aadil Bedi came up with a fabulous 66 in round four that featured birdies on the last five holes. The Indian youngster thus posted his Asian Tour career-best finish, fourth place at 18-under-270.
Rookie Aman Raj (66) and Abhijit Singh Chadha's (71) tied fifth result at 16-under-272 made it four Indians in the top-5. Aman equaled his previous best result on the Asian Tour while Abhijit, like Aadil, claimed his career-best finish on the tour.
Rashid Khan (68-66-66-69), lying overnight second, one shot behind leader Rory Hie, made a steady start with two birdies on the front-nine but then couldn't push ahead on the back-nine where he added just two more birdies at the cost of a bogey.
Rashid thus couldn't end his five-year title drought on the Asian Tour. However, he made significant gains on the tour's merit list in order to seal his card for 2020.
Khan said, "Today was a little up and down for me. I couldn't find the fairways on the front-nine and missed a lot of greens.
"On the back nine, things didn't work out the way I wanted them to. I was there in the game when I made birdie on the 14th and was just one shot back, but a wrong decision on the 15th, where I was a little confused on which club to use from the tee, put me in a really bad position. It was disappointing to make a bogey on the final stretch when you are just one back.
"I think I didn't play my natural game. My game is to attack the flag and I went a little safe today. Maybe it was because I was not able to find the fairways and from the rough it is really tough to control the ball.
"The way I started and hit the ball today, I don't think I should have shot under-par but I still managed to do that. So I'm happy with the way I played this week.
"It's just that I have to practice a little, be confident when I'm hitting a shot and I'll be fine and the big one will come."
Aadil Bedi (67-68-69-66) was one-under through the front-nine but then signed off in a blaze of glory with birdies on the last five holes. The 18-year-old Aadil landed it close on four of the last five holes and sank a 15-footer on the 16th.
Bedi said, "I started well today being two-under through three holes, but then struggled a little bit with my drives and was not finding the fairways as regularly as I would've liked. However, I found something in my game on the 13th. From there on I was striking it well once again.
"I was in the zone on the back-nine and landed it within five feet on many occasions to set up birdies.
"The big positives from this week are that I have learnt a few things about my game. I just need to be more patient and need to know which pins to attack. I now feel playing conservatively on some holes can also be good for me.
"The trip to the US this summer really helped me. In the US, I played with some established players who gave valuable advice on my game."
Aman Raj was three-under for the day through 14 holes before he produced a birdie on the 15th followed by an eagle on the closing 18th.
Abhijit Singh Chadha was three-under through 15 holes but two late bogeys saw him slip to one-under for the day.
Indians Veer Ahlawat and Karan Pratap Singh finished tied 13th at 12-under-276.
The presence of four more Indians, Kshitij Naveed Kaul, Karandeep Kochhar, Shivendra Singh Sisodia and Viraj Madappa, in tied 17th at 11-under-277, made it 10 Indians in the top-20.