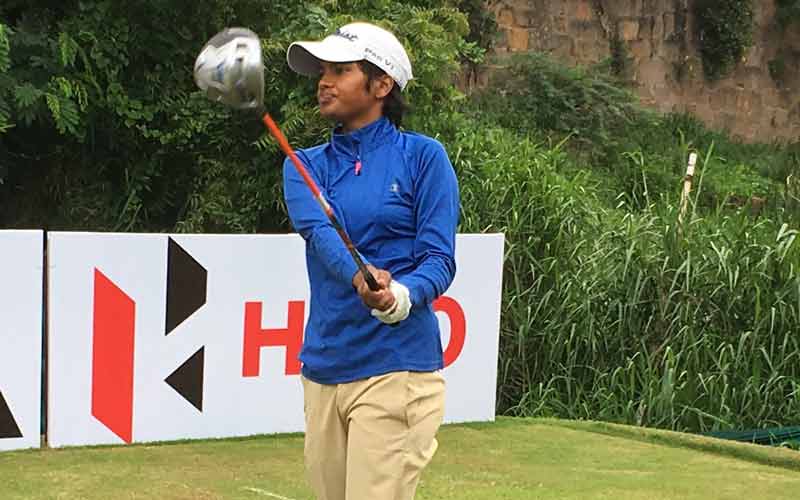 Hyderabad: Talented teenaged amateur Sneha Singh made good use of her local knowledge of the Hyderabad Golf Club layout amidst the picturesque Golconda Fort, by carding two-over 73 to take the first round lead on Wednesday.
Sneha, who just turned 15 in June this year, had three birdies, one bogey and two double bogeys on the challenging but exciting course of the Hyderabad Golf Association. Sneha was chased by the experienced Vani Kapoor who, playing her first event in two months, shot three-over 74 despite starting the day with three bogeys in a row. Vani had two birdies, both on Par-3s, the 11th and 16th, while she dropped five bogeys.
Neha Tripathi and Gurjot Badwal shot 75 each, while Ridhima DIlawari, the only three-time winner this season, shot 76 as did Ananya Datar to be Tied-fifth. Gursimar Badwal, elder sister of Gurjot, and Amandeep Drall were Tied-seventh with 77 each while amateur Shreya Pal and Gaurika Bishnoi carded 78 each to complete the Top-10.
Sneha, an 11th standard student in a Hyderabad School, has been doing well in age-group competitions and finished in the Top-3 in the Hyderabad leg of the US Kids Golf Championships. Her father Sanjay Kumar, also a golfer, is also her coach and she is a regular at the course.
Vani, who was out due to injury for some weeks, showed some rust as she started the round with three bogeys in a row, but quickly recovered for a string of six pars followed by another bogey on the Par-5 10th. At that stage she was four-over for the day. But a birdie on Par-3 11th, followed by a bogey on 13th and then another birdie on 16th meant she finished on 74 and was lying second.
Neha, the only player to be below par for the front nine, gave away five shots on the back nine, including a double bogey on the Par-5 12thand bogeys on 17th and 18th.
Tee times for Round 2, Leg 11, Hero Women's Pro Golf Tour, Hyderabad Golf Club:
8:30 AM: Anousha Tripathi 86, Jyotsana Singh 85, Tavleen Batra 82;
8:40 AM: Khushi Khanijau 81, Suchitra Ramesh 81, Shriya Vivek 81;
8:50 AM: Ishvari Prasanna 80, Siddhi Kapoor 80, Gauri Karhade 80;
9:00 AM: Sonam Chugh 79, Afshan Fatima 79, Gaurika Bishnoi 78;
9:10 AM: Shreya Pal (A) 78, Amandeep Drall 77, Gursimar Badwal 77;
9:20 AM: Ananya Datar 76, Ridhima Dilawari 76, Gurjot Badwal 75;
9:30 AM: Neha Tripathi 75, Vani Kapoor 74, Sneha Singh (A) 73;