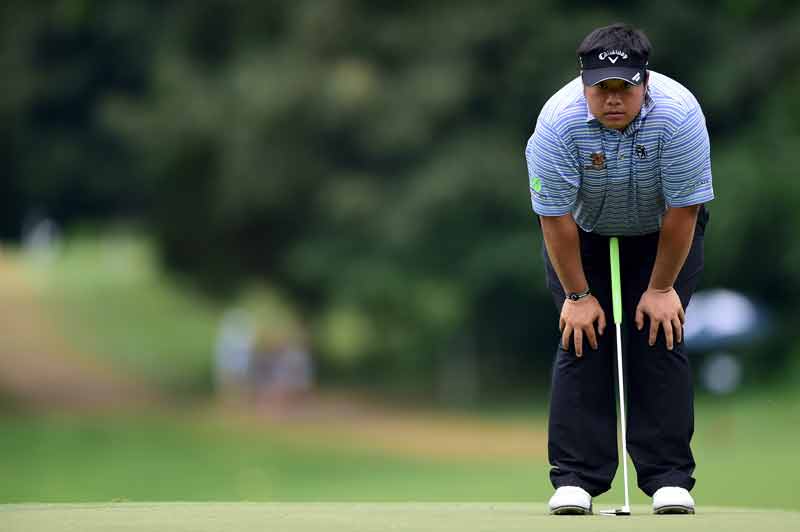 Jersey City: Thailand's Kiradech Aphibarnrat is thrilled he is featuring in his first FedExCup Playoffs this week. He only wished he was fully fit.
The 30-year-old qualified for US$9.25 million THE NORTHERN TRUST, the first of three Playoffs events starting on Thursday, after finishing in 76th position on the PGA TOUR's FedExCup points list.
However, the joy of being amongst the best 125 PGA TOUR golfers at Liberty National Golf Club has been somewhat dampened by a lingering knee injury which he sustained last April.
"It's been a frustrating season," admitted Kiradech today. "At the halfway point, I was in the 40s on the FedExCup points list and looking at getting into the TOUR Championship. The knee injury slowed me down. Initially I didn't think it was a big issue but it kept getting worse. My practice has been cut down by more than 50% as I'm trying to save myself for tournament play."
Big-hitting Kiradech, the first Thai to hold a PGA TOUR card, needs to break into the top-70 of the points list to advance into next week's BMW Championship. The best 30 will then tee up in the Playoffs Finale, the TOUR Championship, where a new FedExCup champion will be crowned and walk away with a cool US$15 million bonus.
"I'll take it one shot at a time. The goal is to get into next week. Top-30 may be difficult. Even if I was fully fit, it's not easy against the best players, what more being just half fit. However, I like the way I'm swinging the club but there is a limit when your body is not fit," said Kiradech.
He will take a short break from the game to rest his right knee in which he suffered a 20% tear in his anterior cruciate ligament (ACL). Kiradech plans to return during the PGA TOUR's Asian swing in October, comprising of THE CJ CUP @ NINE BRIDGES in South Korea, inaugural ZOZO CHAMPIONSHIP in Japan and World Golf Championships-HSBC Champions in China.
The longer-term goa though, is for him to shed some 10kg in weight and get his knee stronger through gym work.
"If I can get down to 100kg, it should put less pressure on the knee but I'm not sure how it will affect the golf swing," said Kiradech, who enjoyed three top-5s this season.
"Right now, when I keep playing, the knee starts to hurt and swell up slightly. I've got to limit myself. I can't squat to read the putting lines too much. The doctor has suggested a six to eight-week break but I have no chance to stop as it's my first season on the PGA TOUR. I'm undergoing various treatments including acupuncture, soft-tissue treatment and chiropractic treatment and it's helped a little bit."
As one of eight Asians in the FedExCup Playoffs, Kiradech is loving his time at Liberty National Golf Club, which has New York's stunning Manhattan skyline offering a magnificent backdrop.
"I love the golf course, I would say it's one of the best in the U.S. I like the way it looks, it's a proper golf course with a mixture of long and short holes. And the views are just amazing," said Kiradech.
With two weeks remaining before the top-8 players for both the United States and International Teams are finalised for the Presidents Cup at Royal Melbourne Golf Club in Australia in December, Kiradech also faces an uphill task to make his debut appearance under captain Ernie Els after slipping down into 20th position.
"There are no excuses. I don't think I'm good enough at this time. You want the top players to play against the U.S. After the top-8 are picked, I will have three months to improve my knee and my game. If I can play well during the Asian Swing, then maybe Ernie might see something. Match play is my kind of game. I just need to get fit."