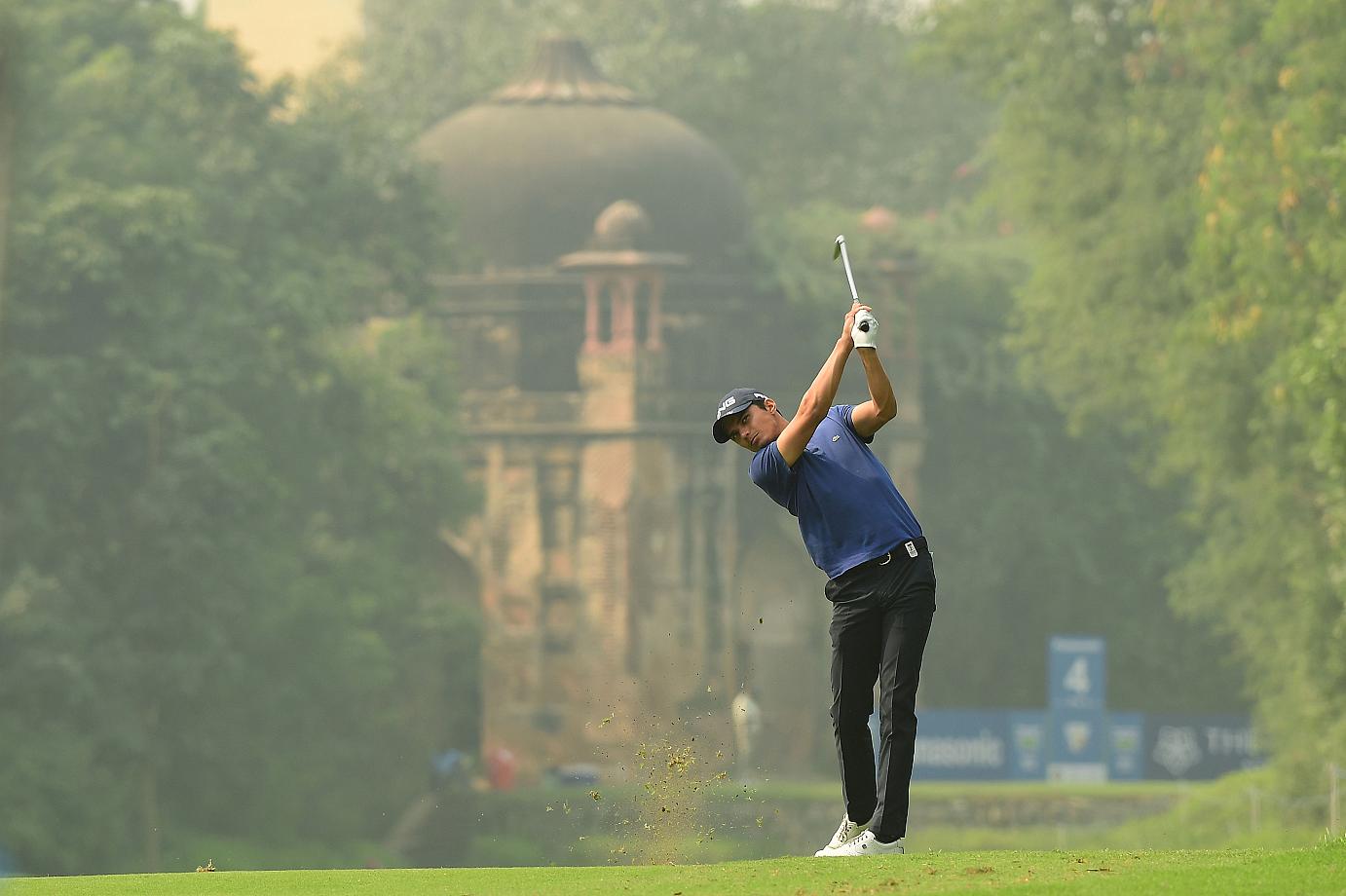 India's Ajeetesh Sandhu continued his rich vein of form at the Panasonic Open India 2018 as he fired a second successive round of five-under-67 to be placed third, one behind the leaders, at 10-under-134.
Suradit Yongcharoenchai (67) of Thailand continued in the lead for the second day running with a tally of 11-under-133. Bangladesh's Md Siddikur Rahman returned a top-class 66 to join Suradit at the top of the pack at the Delhi Golf Club (DGC).
Ajeetesh Sandhu (67-67), who was overnight tied second and one off the lead, had a slow start to the second round as he bogeyed the opening 10th hole. However, he soon found his bearings and rallied with four birdies on the back nine and two more on the front-nine.
Sandhu, who claimed his breakthrough win on the Asian Tour last year, said, "It was a much better round today as compared to round one. I hit it better even though I missed a few putts. I'm quite pleased with my effort.
"At DGC one has to create opportunities by hitting maximum fairways. The par-5s also provide scoring opportunities if you play them well.
"I felt certain aspects of my game were a bit rusty so I've been working on those over the past few months with my friend and fellow professional Gurbaaz Mann and my coach Jesse Grewal.
"The key moment today was the birdie on the 11th. After having started with a bogey on the 10th I felt I came back well with the birdie on the next hole that actually helped me settle down and get into my rhythm.
"I've always played well at the DGC. I don't remember having a bad finish here. I have good memories of this course from my junior days when I won a lot here."
Rashid Khan's (68-68) second straight 68 ensured he was the other Indian in the top-5. Khan, playing at his home course, was placed fifth at eight-under-136 at the halfway stage.
Rashid had a terrific start with three birdies on the first five holes before stumbling with two bogeys on the sixth and eighth. However, he salvaged his round with a charge towards the end as he accumulated three more birdies on the last five holes.
The Indian duo of Jeev Milkha Singh (68) and M Dharma (67) occupied tied sixth place at seven-under-137. Both produced bogey-free rounds. While Jeev gained three spots on day two, Dharma climbed 10 positions.
Jeev said, "I've made only one bogey in 36 holes so far. On this golf course, I'll take this on any given day. I played really well. I drove the ball well. Everything was good. I had a lot of opportunities for birdies. You have got to take what comes your way. I was patient and I managed to hole a few putts coming in.
"I have been playing a lot of 18 holes back home. I just thought I hit it fine on the range. Why can't I take that on to the golf course? So I just kept playing. For the last month and a half, I think the maximum practice I have done is the last two days!
"I hit about 50 balls each time. Otherwise, at home, I just hit like 20 to 30 balls to warm up before heading out to play. I see shots better on the golf course now. For the past three years, I have been hitting beautiful shots on the range but something was just missing out there."
PGTI member Anura Rohana (67) of Sri Lanka was also tied for sixth.
Seventeen-year-old Indian Kshitij Naveed Kaul, who made his professional debut this week, dished out an exceptional 66 to end the day in tied 12th at six-under-138.
The two other Indians in tied 12th were former Panasonic Open India champion Mukesh Kumar (67) and Aman Raj (68).
Tapy Ghai, who was tied second on day one, slipped to tied 15th as a result of his 72. Khalin Joshi also took a share of 15thplace as his round of 68 lifted him 18 spots.
Defending champion Shiv Kapur dropped five spots to tied 21st after his second consecutive 70 took his tally to four-under-140.
Two other former champions from the host country, Chiragh Kumar (one-under-143) and Digvijay Singh (one-over-145) ended the day in tied 36th and tied 53rd positions respectively.
The cut went at two-over-146. A total of 74 players made the cut which included 38 Indians.