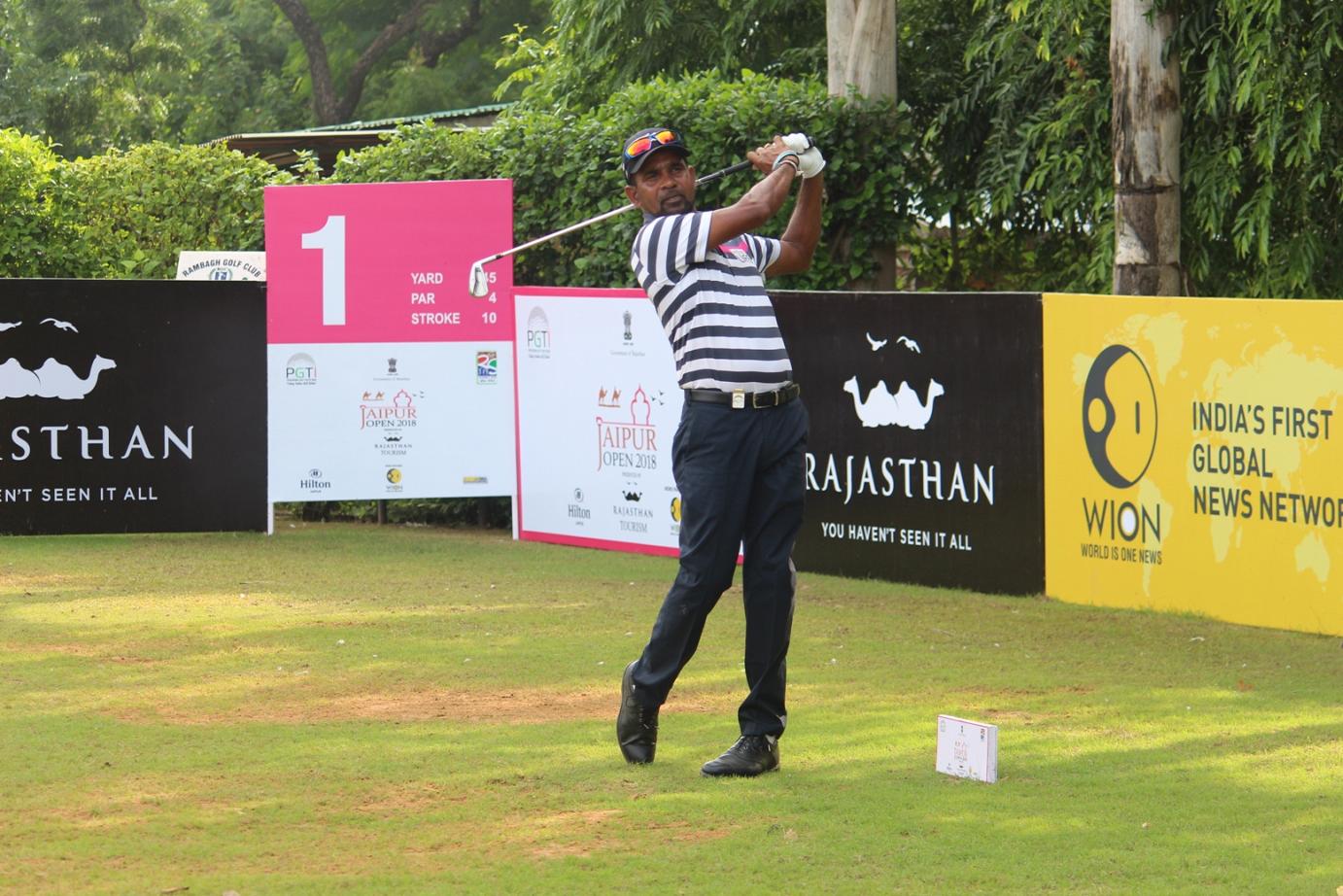 The Jaipur Open 2018 presented by Rajasthan Tourism got off to a fabulous start on Tuesday as the host city of Jaipur was blessed with perfect weather conditions for a round of golf.
Sri Lankan Anura Rohana seized the first round lead with a top-notch eight-under-62 at the Rambagh Golf Club on a cloudy and pleasant day with low humidity and no rain. Delhi-based Chiragh Kumar was a close second thanks to an equally impressive 63.
Meanwhile, Indian star Jyoti Randhawa made a memorable return to the Rambagh Golf Club after almost 25 years with a solid 66 that placed him tied ninth.
Anura Rohana, a five-time winner on the PGTI, who has not enjoyed a great season so far, finally took centre-stage on day one in Jaipur as he delivered a 62 which featured two eagles, five birdies and a bogey.
Rohana, ranked third on the PGTI money list in 2017, produced eagles in quick succession on the 14th and 17th, both par-5s, thanks to some outstanding approach shots. He made the turn at four-under and then added four more birdies on the front-nine for a sizzling eight-under.
Anura, an Asian Tour regular, said, "After winning on the PGTI last year and then qualifying for the Asian Tour, I had high expectations from myself this year. Unfortunately, I just haven't got going this season. But this round comes as a big morale booster and should help me turn things around.
"I've never played well at Rambagh in the past. However, after a good practice round on Monday, I felt my rhythm was back. The back-nine today lifted my confidence further and at the turn I knew that a low score was possible. On the front-nine, the long putts kept rolling in for me and that finally reflected in my score."
Chiragh Kumar, like Rohana, also came up with his best effort of the year, a seven-under-63, to occupy second place in round one. Former Asian Tour winner and PGTI Order of Merit champion Chiragh sank eight birdies at the cost of a lone bogey on Tuesday.
Chiragh, who chipped-in for birdie on the third, said, "I've had a below average season in Asia this year. But this round will surely lift my game. I set up a lot of birdie opportunities by landing it within five feet on many occasions.
"I'm playing in Jaipur after 2015 and since then the course conditions have really improved at this course. In 2015, I had withdrawn from the event after the first round as I had got an entry into an Asian Tour event in the same week. But this time I'm relishing the thought of playing four rounds here as the weather conditions are also very good."
Patna's Aman Raj, who missed a hole-in-one by inches on the sixth, carded a flawless 64 to be tied for third along with defending champion Shamim Khan of Delhi and Raja BR of Bengaluru.
Among the local professionals, Hemendra Choudhary fared the best on day one as his three-under-67 placed him tied 19th. The seasoned Vishal Singh was the next best among the Jaipur pros. He was tied 52nd at even-par-70. Prakhar Asawa, the only Jaipur-based amateur in the field, shot a two-over-72 to be tied 85th.