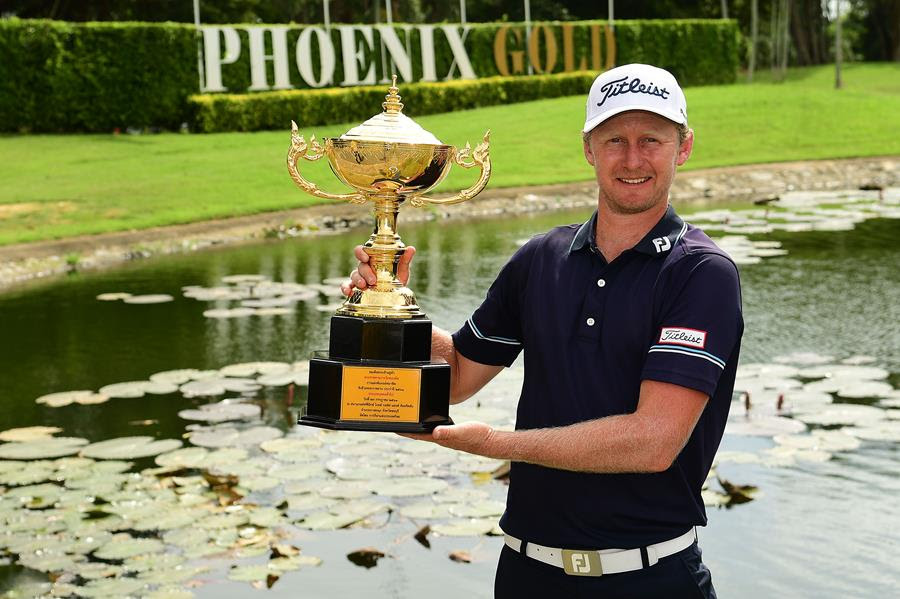 Justin Harding of South Africa cruised to a six-shot victory at the Royal Cup to become the first player since 2011 to win back-to-back titles on the Asian Tour on Sunday.
The in-form Harding fired a three-under-par 67 in the final round of the US$500,000 Asian Tour event. With a winning total of 14-under-par 266, Harding became the first player to win twice in his first two starts in Asia.
The 32-year-old, won the BANK BRI Indonesia Open two weeks ago, took home the winner's purse of US$90,000 while earning his fourth title in a span of two months at the Phoenix Gold Golf and Country Club.
Defending champion Shiv Kapur of India battled to a 71 to share second place with Australia's Jake McLeod (67), Kurt Kitayama (67) of the United States and Chapchai Nirat, who finished as the highest ranked local player following a 68.
The Royal Cup is held in honour of His Majesty King Maha Vajiralongkorn Bodindradebayavarangkun, who celebrated his 66th birthday yesterday.
Player's quotes:
Justin Harding (Rsa) – Fourth Round 67 (-3), Total 266 (-14)
It's been a good little run, I can't really put into words right now. Two weeks ago it was a surprise, but obviously been playing nicely, just tried to get three good rounds starting the week and put myself fin position and then get the job done. I played pretty solidly yesterday it was a strange round of golf. I made a couple more putts today which helped.
I had my eyes on the leaderboard the whole time and saw the guys catching up. I feel like I have a little bit more control that way. I felt pretty good with my game the entire week and I wasn't making too any mistakes. On hole 13 I hit a poor shot that made it a bit interesting but I held my composure and made a great birdie on 15 which was a tough hole.
Haven't had a five-shot lead on the last hole before and I may have been a little too casual on my last tee shot but that's why I got my nickname.
I'm enjoying this run right now. The courses out here in Asia allow me to play strategically and im benefitting so I don't find that I am trying too hard and just letting it come to me.
Shiv Kapur (Ind) – Fourth Round 71 (+1), Total 272 (-8)
I'm disappointed obviously. Around the turn I played poorly and made a bad decision on the ninth hole in my second shot and then ended making double bogey and carried on the frustration to make bogey on the next hole.
So that's when I lost the tournament and played myself out of it but I'm proud with the way I came back from that despite being completely out of sorts I managed to fight back and finish second.
Every time you're defending a title you want to defend it well and I think I can be pretty proud of the way I came and played this week.
I haven't been able to play with my injuries and I haven't been able to play the kind of schedule I wanted to. I'm glad I had a week to get the rest I needed.
The idea is to take the momentum forward and kick on like how I did last season. So I am hoping this will spur me on and bring me more success in the second half.
Chapchai Nirat (Tha) – Fourth Round 68 (-2), Total 272 (-8)
Today I hit everything good, but the only mistake would be hole nine, I hit my three-wood into the bunker and had an uphill lie so I had to lay-up my second shot and just two-putt for double bogey.
I putted really bad this week I think I missed a lot of short putts.I think my game plan really worked this week. I didn't think much at all and I was just hitting it and not thinking.
Two years ago, I didn't feel good about playing golf but this year was a turnaround for me I feel more positive.I worked with my coach Lakchai and we have been working hard on my swing all year. Now I feel so confident over the ball and my game is starting to come together.
Jake McLeod (Aus) – Fourth Round 67 (-3), Total 272 (-8)
It has been a great week for me, sweated it out but I played pretty solidly this week. I never expected to so that well, had my eye on the leaderboard once or twice.
I knew I was never going to be close, Justin is just playing really well and has a five-shot lead so it's been hard to catch that. Putting has been the best part for me this week but my ball striking has improved a lot too this week which helped on this course.
I'm from up North in town so I'm pretty used to the heat. I'm playing well right now and my goal was to try and secure an Asian Tour card but missed out at Qualifying School so I only have conditional status. So, this is my fourth event and I am heading to Fiji next week so I am hoping I can use that to get another good result there.
Kurt Kitayama (Usa) – Fourth Round 67 (-3) , Total 272 (-8)
Overall my week was pretty great, a top-10 finish is always nice and being under-par on the weekend finally is a huge step since I have had a bit of trouble doing well on the weekend for the past couple of tournaments.
I've been getting a lot of playing opportunities on the Asian Tour and I see myself improving each week which is a positive. I know its hard for the qualifying school guys to get starts so im taking advantage of the starts that I do get.
I did well in the weekend rounds in China before I came here. So, to finally get a good finish on the Asian Tour is great. My goal would just be to lock in my card for next season.
Scores after round 4 of the Royal Cup 2018 being played at the par 70, 6716 Yards Phoenix Gold GCC course (am - denotes amateur):
266 - Justin HARDING (RSA) 64-64-71-67.
272 - Jake MCLEOD (AUS) 70-64-71-67, Kurt KITAYAMA (USA) 68-70-67-67, Chapchai NIRAT (THA) 68-69-67-68, Shiv KAPUR (IND) 66-68-67-71.
274 - Prom MEESAWAT (THA) 71-69-68-66, Atiruj WINAICHAROENCHAI (THA) 70-68-70-66, Dale BRANDT-RICHARDS (AUS) 70-70-66-68, Naoto NAKANISHI (JPN) 64-69-70-71.
275 - Johannes VEERMAN (USA) 71-68-72-64, John CATLIN (USA) 67-72-67-69, Gaganjeet BHULLAR (IND) 71-65-69-70, Jarin TODD (USA) 66-67-69-73.
276 - Chikkarangappa S. (IND) 72-70-67-67, Viraj MADAPPA (IND) 70-69-69-68, Phachara KHONGWATMAI (THA) 72-69-66-69, Sattaya SUPUPRAMAI (THA) 67-69-69-71, Travis SMYTH (AUS) 68-68-69-71, Josh YOUNGER (AUS) 65-69-70-72, LIU Yanwei (CHN) 68-66-70-72, Mark BROWN (NZL) 67-68-68-73.